Celebrating the future of the Dynamite brand, as well as the tremendous history of the Spirit, Dynamite Comics has a pair of panels ready to go for Comic Con 2015.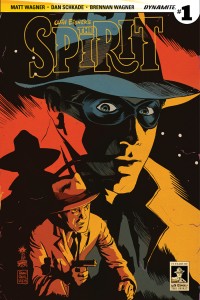 If you're a Spirit fan, then you don't want to miss out on the Spirit 75th Anniversary Panel, taking place this Friday at the biggest Con of the year in San Diego, CA. The presentation will have all manner of special guests including current series writer – Matt Wagner of Grendel. That's going to be a big one.
Also set for the show is a panel looking forward to the next decade of Dynamite offerings. The publisher will have a bunch of talent on hand for this one, like Gail Simone (who you've got to know from somewhere- including her incredible run on Batgirl) and David Gonzalez, the creator of Homies. Actually, there'll be a nice little giveaway for this one too, as everyone who attends the presentation will get a bag od Homies to take home with them!
Here's the full list of details:
Thursday, 7/9/15, 5:45pm – 6:45pm – Dynamite: The Next Ten Years – Join the Dynamite Entertainment team and their star-studded line-up of creative talent as they forecast their game-changing projects of 2016 and beyond, including James Bond, Grumpy Cat, Bob's Burgers, Vampirella, and more. Special guests David Gonzales(creator of Homies) and Gail Simone (Red Sonja, Swords of Sorrow) will take the stage for a surprise announcements, including awesome developments regarding Grumpy Cat! Attendees will also receive complimentary Homies figurines. Room 6DE.

Friday, 7/10/15, 2:00pm – 3:00pm – Spirit 75th Anniversary Panel – Join Dynamite CEO & publisher Nick Barrucci, new series writer Matt Wagner (Grendel, The Shadow), former DC Comics publisher Paul Levitz, Michael Uslan (film producer and writer of The Boy Who Loved Batman), Dynamite marketing manager Keith Davidsen, and special guests to-be-announced to discuss the creative legacy of industry legend Will Eisner and his most iconic character, The Spirit. Room: 4
Also at the show, there are a few giveaways that you should be on the lookout for. Copies of both The Spirit #1 and Bob's Burgers #1 will be free to take home at a few retailers on the show floor. Not only that, but you'll also be able to meet the creator of the burger-serving cartoon, and get your book signed, as Loren Bouchard will be at the Diamond Booth (#2401 on the floor) on Friday the 10th, between 12pm and 12pm.
Here's where you can snag some free comics:
Will Eisner's The Spirit #1 Comixology Exclusive: Featuring a cover by artist Jenny Frison exclusively created for San Diego Comic-Con, this variant edition (Cover L) can be found only at the Comixology booth (Booth #2547) on Saturday, July 11th.
Bob's Burgers (Vol. 2) #1 SDCC Retailer Exclusive: Featuring a cover by artist Damon Wong, this variant edition (Cover K) was exclusively created for sale by retailers exhibiting at SDCC. Fans can visit the Diamond Comics booth (Booth #2401) to pick up a flier indicating which retailers on-site will be selling the special comic.
Will Eisner's The Spirit #1 Award Ceremony Exclusive: Featuring a cover by artist Francesco Francavilla exclusively created as a giveaway for 2015 award ceremonies, this variant edition (Cover G) will be available for free to attendees of the 27th Annual Will Eisner Comic Industry Awards, held on the evening of Friday, July 10th, at the Hilton San Diego Bayfront.