The biggest digital comic book reader on the planet, comiXology has collection of terrific giveaways on tap for the Con, as well as some panels that you won't want to miss out on.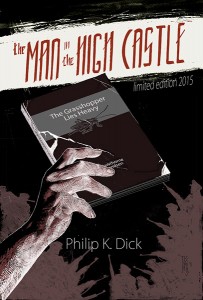 Located at booth #2547 on the show floor, comiXology will be giving away a limited mount of company-branded tees as well as Kindle Fire devices, which you can read their catalog of books on of course. Also featured at the booth will be a selection of print variant comics.
That kind of flies in the face of their whole 'digital' philosophy, but they're cool (and also free), so don't complain. The books are scheduled to be "Marvel Comics' A-Force #2, Dynamite Entertainment's The Spirit #1, BOOM! Studios' Lumberjanes #15, IDW Publishing's Onyx #1, Valiant Entertainment's X-O Manowar: Valiant 25th Anniversary Special #1 and a special comiXology Submit version of Aw Yeah Comics! #1." Oh, and if you're not heading to San Diego this week, you can still get in on the fun with digital editions of all of the above on the comiXology app.
There's also a very cool special shot at a free copy of Philip K. Dick's novel Man in the High Castle that'll be given away at the booth. The book sports a cover by Ted Naifeh and will be available during a signing at the booth by actor Luke Kleintank from the Amazon Studios upcoming TV show of the same name. Only 50 fans will be abel to get their hands on a copy, so get there early!
As for the rest of the scheduled happenings, scroll on down and get that calendar app out, you're going to need it.
Wednesday, July 8th – Sunday July 12th

Check www.comiXology.com each day for a new variant cover!

Wednesday, July 8th

7:00pm – 8:00pm – IDW Publishing's Onyx #1 (Exclusive Variant) giveaway and signing: Get a free exclusive cover By Gabriel Rodriguez with signing by Rodriguez and writer Chris Ryall. Limited to 500 copies. First come, first served. ComiXology booth #2547.

Thursday, July 9th

12:00pm – 1:00pm  — The comiXologist Traveling Podcast Party, Room: The Auditorium, San Diego Central Public Library
Speakers: Kara Szamborski & Matt Kolowski (The comiXologist Podcast Hosts), Jen Vaughn (Cartoonist)

1:00 pm – 2:00 pm  — BOOM! Studios' Lumberjanes #15 (Exclusive Variant) giveaway and signing: Get a free exclusive cover by Hope Larson with signing by Larson and co-creator Shannon Watters. Limited to 500 copies. First come, first served. ComiXology booth #2547.

2:30pm – 3:30pm — ComiXology: Ask Me Anything, Room: 8
Speakers: David Steinberger (comiXology co-founder & CEO), John D. Roberts (comiXology co-founder & Director of comiXology Submit)
Moderator: Chip Mosher (comiXology)

4:00pm – 5:00pm  — Delcourt Panel, Room: 28DE
Speakers: Guy Delcourt (Founder of the Delcourt Publishing House, Owner of Editions Soleil) and David Steinberger (comiXology co-founder & CEO)
Moderator:  Abraham Riesman (New York magazine and Vulture editor)

6:30pm – 7:30pm  — Indie Comics Marketing & PR 101, Room: 8
Speakers: Jacq Cohen (Fantagraphics Books Director of Publicity & Promotions), Jen Vaughn (Cartoonist), Janelle Asselin (Publisher, Rosy Press), Kirk Damato (Creative Manager at Buzzfeed)
Moderator: Chip Mosher (comiXology)

8:00pm – 11:00pm — ComiXology Co-Sponsors the Comic Book Legal Defense Fund's Comic-Con Welcome Party, The Westgate Hotel 1055, Second Avenue San Diego, CA 92101. All are welcome to attend.

Friday, July 10th

1:00 pm – 2:00 pm  — Valiant's X-O Manowar: Valiant 25th Anniversary Special #1 (Exclusive Variant) giveaway and signing: Get a free exclusive cover by Al Barrionuevo and a signing by writer Robert Venditti. Limited to 500 copies. First come, first served. ComiXology booth #2547.

2:30pm – 3:30pm — Secret Origins: How the Industry's Best and Brightest Began, Room: 8
Speakers: Hank Kanalz (SVP editorial strategy & administration at DC Entertainment), Michael Marts (Editor-in-Chief at Aftershock Comics), Allison Baker (Director of Operations at IDW Publishing, Co-Publisher at Monkeybrain Comics), Janelle Asselin (Publisher, Rosy Press), Aroop Sanakkayala (Co-Founder & COO, Strange Turn Entertainment)
Moderator: Chip Mosher (comiXology)

6:00pm – 7:00pm — A Comics Life for Me! The Road from Fan to Pro, Room: 9
Speakers: David Steinberger (comiXology co-founder & CEO), Bobbie Chase (VP Talent Development at DC Entertainment), Dafna Pleban (Editor Lumberjanes, BOOM! Studios), Guy Delcourt (Founder of the Delcourt Publishing House, Owner of Editions Soleil)
Moderator: Chip Mosher (comiXology)

8:00pm – 10:30pm— ComiXology co-sponsors the Will Eisner Comic Industry Awards, Indigo Ballroom at the Hilton Bayfront: 1 Park , San Diego, CA.

Saturday, July 11th

11:00am – 11:50amn —Bruce Timm and DC Entertainment's Justice League: Gods & Monsters signing: Get an exclusive poster signed by Bruce Timm with codes for $3 dollars off the DC Universe original movie, Justice League: Gods and Monsters HD digital download on Amazon Instant Video and a free copy of Justice League: Gods & Monsters—Batman #1 on comiXology.

12:00pm – 12:50pm — Man in the High Castle  (Exclusive Variant) giveaway and signing: Get a free copy of Philip K. Dick's Man in the High Castle novel with an exclusive new cover by comic creator Ted Naifeh during this signing by actor Luke Kleintank from the Amazon Studios' Man in the High Castle TV show. Limited to 50 copies. ComiXology booth #2547.

1:00 pm – 2:00 pm — Dynamite's The Spirit #1 (Exclusive Variant)giveaway and signing: Get a free exclusive cover by Jenny Frison with signing by Spirit writer Matt Wagner, artist Dan Schkade, and colorist Brennan Wagner. Limited to 500 copies. First come, first served. ComiXology booth #2547.

3:00pm – 4:00pm — ComiXology Submit: The Future of Self-Publishing, Room: 29AB
Speakers: John D. Roberts (comiXology co-founder & Director of Submit), Janelle Asselin (Publisher, Rosy Press), Joshua Fialkov (The Bunker, Life After, King), Jody Houser (Cupcake POW!), Joe Glass (The Pride, Stiffs), Elliot Blake (The Package), Stephan Franck (Silver)
Moderator: Chip Mosher (comiXology)

4:00pm – 5:00pm  — Marvel Comics' A-Force #2 (Exclusive Variant)giveaway and signing: Get a free exclusive cover by Siya Oum with signing by Siya Oum. Limited to 500 copies. First come, first served. ComiXology booth #2547.

5:00pm – 6:00pm — Comics 101: Making Sense of the World of Comics,Room: 28DE
Speakers: Hank Kanalz (SVP Editorial Strategy & Administration at DC Entertainment), Deb Aoki (Contributing Writer, Publishers Weekly), Jen Vaughn (Cartoonist), Kara Szamborski & Matt Kolowski (The comiXologist Podcast Hosts)
Moderator: Chip Mosher (comiXology)

Sunday, July 12th

11:00am – 12:00 noon — Creating Comics The ComiXology Way, Room: 24ABC
Speakers: John D. Roberts (comiXology co-founder & Director of Submit), Mark Waid (Insufferable, Daredevil: Road Warrior Infinite Comic), Reilly Brown (Deadpool: The Gauntlet Infinite Comic, Power Play), Alex De Campi (Sensation Comics Featuring Wonder Woman, Valentine), Chris Sheridan (Motorcycle Samurai)
Moderator: Chip Mosher (comiXology)

1:30pm – 2:30pm  — ComiXology Submit's Aw Yeah Comics! #1(Exclusive Variant)giveaway and signing: Get a free exclusive cover by Faith Erin Hicks with signing by creators Art Baltazar and Franco. Limited to 500 copies. First come, first served. ComiXology booth #2547.

2:00pm – 3:00pm — Fund My Comic, Room 29AB
Speakers: John D. Roberts (comiXology co-founder & Director of Submit), Jimmy Palmiotti (Abbandon, Denver), Jen Vaughn (cartoonist), Elliot Blake (The Package), Hope Nicholson (Publisher, Brok Windsor), Alexis Ziritt (The Package) and from Kickstarter Jamie Tanner (Comics Lead, Kickstarter)
Moderator: Chip Mosher (comiXology)