It might be SDCC week out in sunny San Diego, but the closest most of us will get is right here at home in our local comic shop.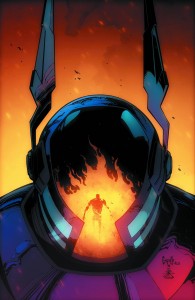 Ah yes, tis that time of year, when a painful few get to experience the wonder and glory that is the San Diego Comic Con. Loaded up with goodies of the free and not so free (but exclusive) varieties, SDCC is a comic book/video game/movie fan's dream.
But for the good chunk of the fandom out there, this is the best that we'll get this week, well… as far as comics are concerned anyway. So it's a good thing that there are some excellent reads out there on the racks this week to keep us all occupied.
Batman #42 hits stands today, and is as can't miss a title as any other has been in the Snyder/Capullo run. Continuing Gordon's run as the new and way more mechanical Dark Knight, Batman #42 promises more surprises and new enemies for the new Batman, as writer Scott Snyder has said that you won't see a lot of Batman's more familiar baddies in Gordon's stint. And then there always more promise of seeing where Bruce actually is, since we all know he's not buried next to that Lazarus Pit.
Speaking of, the original Batman figures in to the current arc in Justice League of America quite prominently. Up against Darkseid and the Anti-Monitor, the League is at full strength in this book, which takes place before the character-changing stories currently featured in the aforementioned Batman books as well as in Superman and pretty much the entirety of the League's heavy hitters.
Then there's Marvel Comics' Secret Wars, which is still very much ongoing. The series, a lot like DC's Convergence really, has been a little up and down. More good than bad though, with lots of interesting takes on the familiar characters in the Marvel U, though in totally new ways. The main book is 'off' this week, but there are some nice crossovers if you're into them!
Secret Wars 2099 #3 continues to bring the battle into the Marvel U's future time, with a story that pits the Avengers of 2099 against the Defenders. Cool stuff especially for longtime Marvellites. Ghost Racers #2 also launches this week and continues the race of Ghost Riders, as they battle at the behest of Arcade (hate that guy) in order to avoid torture in his horrid Battleworld version of Murderworld. I'm thinking it's worth it to keep reading this one just to see him get his eventual comeuppance from a legion of Ghosties. That's gonna be a mess.
Amazing Spider-Man: Renew Your Vows #2 hits this week as well, with the continuance of Spidey's life as a married man with a young daughter, in a world where the heroes have all been killed by a monster bent on world domination. Not the cheeriest of Spider-Man tales this.
Bloodstrike #1 also hits the stands this week from Image. I'm not a big fan of Image Comics in general, just a matter of taste really, but Bloodstrike is one to watch. From Rob Liefeld (of X-Force and Deadpool fame), Bloodstrike is a super-mature and violent look at some heroes that were actually a part of the old Image Universe. So if you were fan of that 90s era at all, then you need to grab a copy of BS.
And finally, I pretty much need to highlight Green Lantern/Star Trek #1. Following on the heels of the Trek and Planet of the Apes mashup, this crossover between IDW and DC Comics is one for the ages- if for nothing else than it being supremely weird. Have a look at least, I have a feeling it'll be worth it.
So the are my highlighted picks for this week, but as usual you can scroll down for the rest of what I'll be picking up at my LCS, and click here for the full list to plan your own trip.
Dark Horse Comics
Abe Sapien #24 – Abe goes on a submerged adventure, meeting a creature that might have more answers to his "prehuman" origins.
Harrow County #3 – Do not miss this one, as one of the best horror comics rolls on.
Negative Space #1 – A brand new horror book from DH that is loaded up with high strangeness.
DC Comics
Batman #42 – see above
Batman: Arkham Knight Vol. 1 – The first four issues of the game prequel comic are collected.
Batman/Superman #22 – Truth continues as Superman has to come to grips with the fate of his friend.
Constantine The Hellblazer #2 – Somebody's offing John's ghostly allies.
Justice League of America #2 – see above
Mad Max: Fury Road – Max #1 (of 2) – Tying together the past movies and Fury Road, this issue has Max in a battle to rebuild the Interceptor… in a new Thunderdome!
IDW Publishing
Ghostbusters: Mass Hysteria graphic novel – Collecting the whole Mass Hysteria run from the monthly book.
Star Trek/ Green Lantern #1 – see above
Image Comics
Bloodstrike #1 – see above
Marvel Comics
Age of Apocalypse #1 (Secret Wars) – Apocalypse is besieged by the last remaining opposition to his rule over his Battleworld kingdom.
Amazing Spider-Man: Renew your vows #2 (Secret Wars) – see above
Civil War #1 (Secret Wars) – Years of non-stop superhero battles have scarred the Civil War Warzone.
Ghost Racers #2 (Secret Wars) – see above
Secret Wars 2099 – see above
Star Wars: Lando #1 (of 5) – The origins of the Cloud City lord are told.
Valiant Comics
Bloodshot Reborn #4 – Magic looks to restore Ray's soul, as he continues on his roda back to becoming Bloodshot.
Unity #20 – Besieged by War-Monger.