Crank the AC! Danny DeVito's portrayal of Oswald Cobblepot (the Penguin) in Batman Returns was iconic and defined the character to a degree. NECA's new figure of him? Ridiculously on point.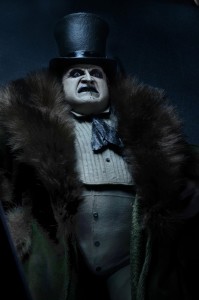 I love NECA as a company, I don't think there should be any question of that. So if I come off as bias a bit, well, it's probably because I am. Quite frankly the company makes beyond cool toys and collectibles and this is yet another feather in its cap.
A perfect likeness of DeVito highlights one of the most unique quarter scale figures to ever see release from NECA. Sure we've had jumbo sized toys modeled after all manner of different characters from across the pop culture gamut, like Master Chief from Halo and Arnold Schwarzenegger from Predator, but this one's way different than any of those.
In scale for the size of the line, the Penguin will stand in at 15″ tall and feature a removable coat and top hat. But that's just what's been announced already, as the toy-maker has more to add to this one. Since a manufacturing issue is keeping NECA from including that umbrella that they had originally intended on (sucks, I know), they'll be instead packing 5 extra accessories with the toy.
Here's what's included now (besides what I mentioned):
"Cobblepot for Mayor" mini-poster
monocle
cigarette in holder
delicious half-eaten fish
additional right hand
Not bad at all. I know the umbrella is iconic, but I think the monocle and cigarette kind of makes up for that really. And besides, I'm sure you could dig up an umbrella from a doll somewhere if you really wanted to have old Ozzie on display with one.
This 1/4 scale figure is coming soon, so if you want one stay tuned to internet storefronts for more. And to check out more shots of Penguin in action, click here.