Super Mario Maker and lots more will be in house for the the annual Nintendo Gaming Lounge installation at the SDCC next week.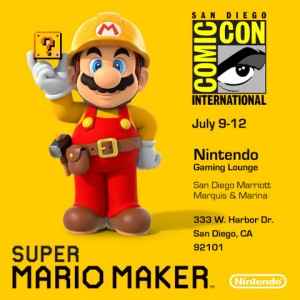 Well it's kind of hard to believe but it's that time of year again- the SDCC is upon us. And as usual, Nintendo has another gaming lounge on the horizon, that'll be loaded for bear with games and more for fans to play and watch. Brand new and unreleased stuff will be on hand too, more than I can remember seeing in pretty much any year prior, including  Super Mario Maker, Yoshi's Woolly World, and Skylanders SuperChargers for the Wii U, as well as The Legend of Zelda: Tri Force Heroes and Chibi-Robo!: Zip Lash for the 3DS.
The show of force definitely establishes that Nintendo's current consoles still have a lot of life left in them, and also is meant to give gamers a little taste of what was at the very recently wrapped up E3 show. This is a rare instance of the two shows taking place extremely close to one another, so some of this stuff was pretty much just announced.
"Our fans can now take some of the great new games we showcased at the E3 video game conference in Los Angeles for a test spin," said Scott Moffitt, Nintendo of America's Executive Vice President of Sales & Marketing. "And with many of these games launching this year, it's the perfect time to be a Wii U and Nintendo 3DS owner."
In addition to the games, the Nintendo Treehouse will be on hand and you'll even get to meet the voice of Super Mario himself- Charles Martinet! Now that's a celebrity appearance. And, as always, there'll be some tourneys to get into, if you so desire a little competitive action out of your visit.
Here's what's on tap:
Pokémon trainers of all ages can show off their skills in a tournament featuring Pokémon Omega Ruby and Pokémon Alpha Sapphire. The one-day-only tournament takes place on July 12 and winners will receive a New Nintendo 3DS XL system and five Pokémon amiibo figures (Charizard, Greninja, Jigglypuff, Lucario and Pikachu).
Fans looking to ink their way to victory and win a Splatoon hat and the Splatoon amiibo three-pack will have their chance in a series of Splatoon mini-tournaments on July 9 and July 12:
Fans that visit the Nintendo Gaming Lounge on Sunday, July 12, will have the opportunity to compete for entries for drawings to win collectible figures featured in the upcoming Nintendo 3DS game Little Battlers eXperience:
Game
Date
Registration Times
Age Restriction
Little Battlers eXperience
July 9-11
12 p.m., 3 p.m., 5 p.m.
All ages
July 12
12 p.m., 3 p.m.
All ages
All tournament participants are selected on a first-come, first-served basis.
Visitors to the Nintendo Gaming Lounge that don't want to participate in one of the several tournaments are free to enjoy the competitions as spectators, or hang around to play many fun Wii U and Nintendo 3DS games. Playable games at the lounge include:
Wii U
Super Mario Maker from Nintendo
Yoshi's Woolly World from Nintendo
Super Smash Bros. for Wii U from Nintendo
Splatoon from Nintendo
Skylanders SuperChargers from Activision
Nintendo 3DS
Chibi-Robo!: Zip Lash from Nintendo
The Legend of Zelda: Tri Force Heroes from Nintendo
Little Battlers eXperience from Nintendo
YO-KAI WATCH from Nintendo
Fans that aren't able to make it to the Nintendo Gaming Lounge can still keep up with all the fun by following Nintendo on Facebook, Twitter, Instagram, Snapchat and Periscope.
For more information about Nintendo, visit http://www.nintendo.com/.
Remember that Wii U and Nintendo 3DS feature parental controls that let adults manage the content their children can access. For more information about this and other features, visit http://www.nintendo.com/wiiu or http://www.nintendo.com/3ds.
The Nintendo Gaming Lounge is located in the San Diego Marriott Marquis & Marina (333 W. Harbor Drive, San Diego, CA 92101), which is right next to the famed convention center. You can also visit without a ticket to the Con, so no worries if you weren't able to secure a pass to the show itself for this one. The lounge will be open from 10 am to 7 pm on July 9th to the 11th, and 10 am to 5 pm on July the 12th, which is the final day of the SDCC.
Also, if you do have a ticket to the convention, make sure you stop by Nintendo's booth on the show floor, which is #235. There you'll find a display of Amiibo figures… all of them.