Just in case you've been living under a rock, Batman: Arkham Knight is officially in stores now.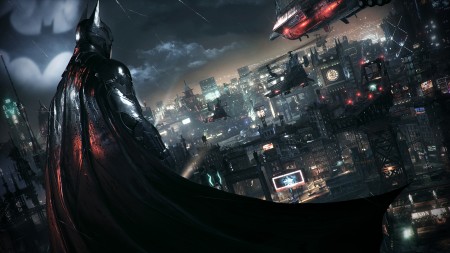 "The Batman: Arkham series is one of Warner Bros.' most popular and critically acclaimed video game franchises, and with Batman: Arkham Knight, we are giving players the game they have always asked for," said David Haddad, Executive Vice President and General Manager, Warner Bros. Interactive Entertainment.   "Batman: Arkham Knight is the culmination of Rocksteady Studios' dedication to deliver both an amazing narrative tale and thrilling gameplay experience from beginning to end."

"Rocksteady has been truly honored to bring to life the rich universe envisioned by DC Comics in the Batman: Arkham trilogy of games," said Sefton Hill, Game Director at Rocksteady Studios.  "With Batman: Arkham Knight being the conclusion to the series, we wanted to give players a story filled with unforgettable moments, ambitious new features such as the Batmobile and an epic open-world Gotham City that allow them to live the complete Batman experience."
Set in that open-world of a cordoned-off and evacuated Gotham City, Arkham Knight introduces the title villain to the world of DC Comics' hero, and he's got a small army at his side. The Arkham Knight is also in league with longtime bat-villain Scarecrow, who's also got quite the force behind him.
Gamers can expect to go up against the likes of Two-Face, Penguin, Riddler, Harley Quinn, and the rarely seen Firefly as well. Of course, the Dark Knight will have some help as well with Nightwing, Robin (Tim Drake), Oracle, Catwoman, and even police Commissioner Gordon and Wayne Enterprises honcho Lucius Fox at his side. And thanks to the Dual Play combat system, you can hot-swap between controlling Batman and his allies in battle in specific portions of the game.
And don't forget that there's some awesome DLC for Arkham Knight that includes the Batgirl: A Matter of Family expansion. That pack includes a prequel campaign that stars a pre-paralytic Barbara Gordon as Batgirl, as she heads up against a cadre of villains. There are also missions planned that will put you in the seat of iconic Batmobiles from throughout Batman's history, as well as more character skins, challenge maps, and more.
All of the above can be netted with a Season Pass too, which'll run you a cool $39.99 USD.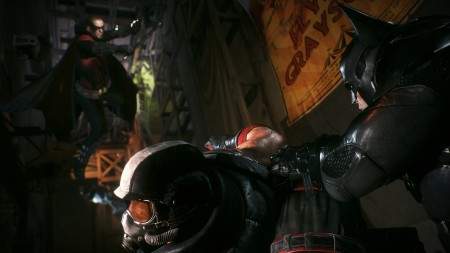 And while we're talking DLC, the PS4 edition of the game has some nifty extras included in the box (sort of) like the Scarecrow Nightmare Missions Pack, Classic TV Series Batman and Batmobile Skins and the Justice League 3000 Batman Skin. Pretty cool stuff. Then there's also the Red Hood mission pack which is included with a copy purchased from GameStop. Whether or not that becomes available separately in the future is a little questionable at the moment, but you can certainly get it and play it right this second if you buy from that specific retailer.
Batman: Arkham Knight is now available for the PS4, Xbox One, and PC.