Sony announced a new version of the PS4 designed to be lighter and more efficient than its predecessor.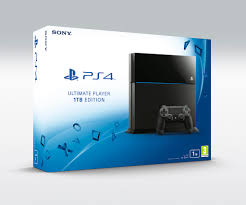 The new PS4 will be 10% lighter than previous version and uses 8% less power as well as come in a matte finish.
Best of all, Europe and PAL regions get to look forward to a new 1 TB hard-drive! Hopefully the increased hard-drive will also come to North America soon.
Seems Sony's trying to keep pace with Microsoft. Earlier this month, Microsoft unveiled their new Xbox One version with 1 TB hard-drive. They also lowered the price of the 500 GB Xbox One to $349.
It is interesting that Sony didn't discuss this at E3 at all, but that's probably because the North American version isn't getting the extra hard-drive space right now. But there isn't even technically a North American release date, so it'll probably be a TB as well.
The 1 TB PS4 will launch at the end of the month in Japan before rolling out globally shortly after. It launches in Europe July 15th.
Do you live in one of the TB regions? Are you going to get this version? Let me know in the comments below or Tweet at me! @lmrome3
Source: gamesindustry.biz