The katana-wielding, zombie-slicing badass known as Michonne is getting her own adventure game from the masters of the undead over at Telltale Games.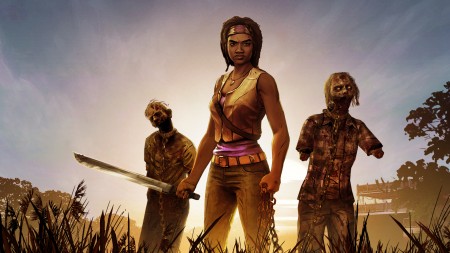 "In many ways, Michonne herself is a reflection of the world of The Walking Dead. She is brutal and cold on the outside, but deep beneath what is broken, she remains hopeful, trying to claw her way out of the darkness that surrounds her,"said Robert Kirkman, creator of The Walking Dead. "In our effort to bring the world of the comic and the world of the Telltale series closer together, there is no greater character than Michonne to help bridge that gap."

"Michonne's complexity and range make her an ideal lead for the compelling interactive drama fans have come to expect from Telltale," said Kevin Bruner, Co-Founder and CEO of Telltale Games. "With this mini-series, players will experience Michonne's challenges first-hand, and the choices they make will shape her journey. We're incredibly honored by Robert for the opportunity to share this untold story in The Walking Dead universe."
So this is a game announce that should make more than a few walker fans happy. Machine is, after all, a heck of a fan favorite, and to actually get to play as one of the major characters from the series is kind of a big deal in Telltale's Th
e Walking Dead games. Remember that, not that they aren't all pretty awesome in their own rights, but the vast majority of the characters in the games have been made specifically for those titles, and you couldn't play as any of the ones that weren't.
So Michonne getting her own game is a definite high note on a few levels. And you can probably expect a few cameos as well, from the sound of the narrative that'll be told. The story takes place between issues #126 and #139 of the comic book, and tells the formerly mysterious tale of what happened to Michonne during those books. If you're not a fan of the comics, she left the group of series regulars, and then suddenly returned. We never found out what happened in that time though. Well, till now anyway.
The game is also a continuation of The Walking Dead season 2 from Telltale, so you'll have to own at least one episode of that game in order to download and play. Unlike the previous season's tack-on episode though, it sounds like the Michonne chapter won't be one and done. Telltale is calling it a mini-series, so you might be able to expect to play as Michonne in two or three episodes. Not a full 'season' by Telltale's standards, but not too shabby either.
The Walking Dead: Michonne has no release date as of yet, but will be available this Fall for the Xbox and PlayStation families of consoles, as well as the PC/Mac, iOS, and Android based platforms.