What's Warhammer 40k without Chaos? The demonic creeps make their presence known in these new screens for Battlefleet Gothic: Armada.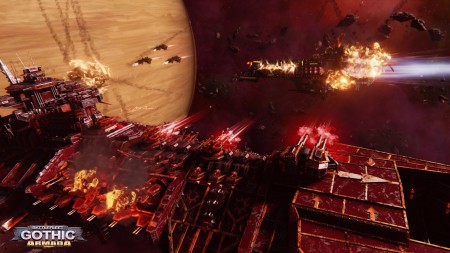 The Chaos Fleet, that you see in these new screens, are the main foe in Tindalos Interactive's Battlefleet Gothic: Armada, the newest title for the PC to hold the Warhammer 40k license. This real-time strategy affair is set entirely in the confines of deep space and during the Gothic Wars in the 40k timeline.
The Chaos Black Crusade of Abaddon the Despoiler (which is quite a name) headlines this fight against the Imperium of Man, as the demonic turncoats of Chaos take the battle to humanity with ships that stretch from a single kilometer to 7.5 kilometers in length. Chaos commands vessels as small as the Raiders, all the way up to the behemoth that is the Planet Killer- the capital ship of the evil Abaddon himself.
Macro-cannon batteries, lances, and the Armageddon cannon will all lay siege to the enemies of the Dark Gods, but Chaos doesn't just fight ship-to-ship as they'll also be able to launch into enemy craft and battle from within.
So far, we've met the Imperial and now the Chaos forces, but Battlefleet Gothic: Armada will offer players the chance to field Eldar and Ork forces as well. So although it's Imperium vs Chaos on the main stage here, there's plenty more of the staple units that you'd expect from Warhammer 40k to be found. All the shots that you see here too, are from in-engine bits.
So while the actual gameplay will probably look a little different (it would be kind of tough to control this anyway), it should look just as good. And if that's the case, then it's hard to not get excited about Battlefleet Gothic: Armada.