Book One in the GAMEKNIGHT999 Series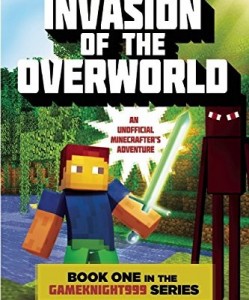 In Minecraft, life can be pretty good for a griefer. Slaying harmless NPC's, taking out carefully constructed buildings, and setting up elaborate traps for your own teammates can all seem like loads of fun for a certain kind of kid. Sure, it's a little mean, but it can give a sense of power to a sad kid who feels like he doesn't have any anywhere else. After all, it's just a game so no one really gets hurt – right?
In Invasion of the Overworld, that "no one gets hurt" theory gets put to the test, and fails miserably. After a particularly fruitful griefing session, GameKnight999 accidentally sets off one of his dad's latest inventions – sending him right into the world of Minecraft. It seems like a fan's coolest dream, but as Gameknight999 soon finds out, it isn't a game for the people inside of it. Taking damage really hurts, and respawning isn't a luxury he's sure to have. It all looks a little different when you see things from that perspective.
Taking real damage is one thing, but the thing that really starts GameKnight999 on the path to redemption is understanding that the NPC's in Minecraft aren't just wooden animations – they are real people, with real feelings, and some of them have been hurt by GameKnight999 in the past. Though there are hard feelings from some (and true remorse from GameKnight999), moving on is a must. There is a disturbance in the Minecraft world that has everyone on edge, and no one is quite sure what the result will be.
It soon becomes apparent that they're all going to have to work together to save not just Minecraft, but the real world as well. In order for that to work, Gameknight999 will have to face up to the things he's done in the past, and learn t0 put others first. With a little help from some knowledgable friends in the Minecraft world, a lot of strategy from his one true friend, and a whole lot of help from people he has truly wronged in the past, GameKnight999 might just be able to pull off the most important battle of his life.
Invasion of the Overworld is a great choice for the Minecraft superfans in your household. There is plenty of crafting and fighting, and the path of the story stays pretty true to the Minecraft experience. Along with that, there are a lot of lessons to be learned as GameKnight999 faces up to the damage he has done in the past, and works towards being a better person in the future. Whether you're trying to pry your Minecraft addict away from the screen for a little while, or just looking for an interesting new choice for summer reading time, Invasion of the Overworld is sure to be a hit with the 8-11 year old set.