New clothing, vehicles, and more have arrived for Grand Theft Auto Online as a part of the game's free DLC.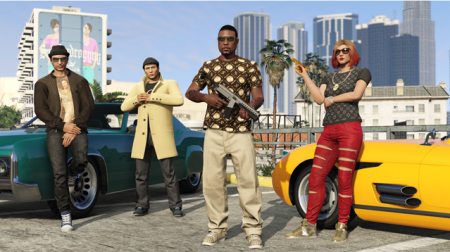 If you're a fan of GTA's online world, then you're going to like what Rockstar has cooked up four this latest update. Tons of new stuff highlight the download, which holds the title 'Ill-gotten Gains', even a new camera angle for console gamers, who now get to play around with the PC's hood-mounted cam view.
Here's what's in the pack:

New Cars

Pegassi Osiris
Albany Virgo
Benefactor Stirling GT
Enus Windsor

A new jet and a new helicopter

"New designer outfits, necklaces, earrings and watches" at the Rockford Hills store.

A new weapon with the Combat PDW arriving at Ammu-Nation.

First Person Vehicle Hood Cam (already available for PC gamers).

"…a host of other new features and updates including redesigned, easier-to-use vehicle websites; a new 'Friends In Session' option within the On Call phone menu to auto-invite all players friends to a job you are on call for, and a lot more. For the complete list, check out the official notes at the Rockstar Support site."
To grab all this great stuff, simply log into your Xbox, PlayStation, or PC version of the game. It's an auto-download, so there's nothing special you'll have to do.