Icon Heroes has even more Comic Con goodness for you with the announcement of a special mug pen-holder featuring the superhero fight club artwork from the CW's Arrow and Flash shows.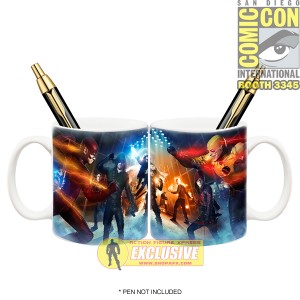 Well, if you're one of the legion of fans that the CW DC universe has these days, then you're probably going to want this bad boy sitting on your desk, keeping all your various pens and pencils safe and tidy. Emblazoned with artwork straight from the 'superhero fight club' promo campaign, you'll find Flash, Malcolm Merlyn, Arrow, Heat Wave, Captain Cold, Black Canary, Ras Al Ghul, Firestorm, Arsenal, and Reverse Flash all showing off on this wraparound imagery.
The mug will be available for purchase at the Action Figure Xpress booth, which is #3345 on the show floor at the San Diego Comic Con next month. Even if you're not going to the show though, you can still grab one of these for yourself right here.