Hot on the heels of Sub Zero's announcement last week, Mortal Kombat X's own hell spawn gets a 12″ scale figure, as Mezco announces Scorpion will be on the way this Fall.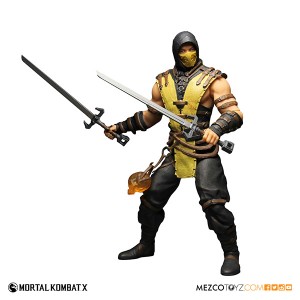 We actually already knew that Scorpion was coming to the new 12″ jumbo figure line from Mezco Toyz, but it's nice all the same to see the undead warrior in the flesh… uh, plastic. As with Sub Zero, who was announced last week, Scorpion will come complete with a number of accessories and sport that same awesome level of detailing as his eternal nemesis.
He'll also have a dozen points of articulation, so you can pose him however you like, battling your 12″ Subby to the death on your bookshelf. And like Sub Zero, you can expect to see Scorpion hitting retail, along with other figures in the line, this coming November- just in time for a bloody, bloody holiday.