Another mini-series in the Colder line of comics is on the way, as Dark Horse Comics just announced at Phoenix Comic Con.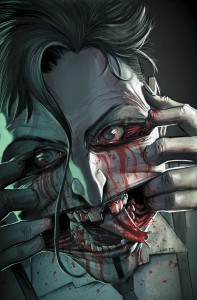 Part of the publisher's presentation at the Phoenix Comic Con, which is going on now, the new Colder series is titled Toss the Bones and -you guessed it- it's going heavy on the horror.
From writer Paul Toobin and Juan Ferreyra, Colder made something of a splash when it debuted at Dark Horse. Spawning one additional series already, this is the second such for Colder, and it looks like a doozy with Nimble Jack (just back from the dead) happing back and forth between our world and the Hungry World. What's he doing on these trips? Recruiting "agents of madness" with one goal in mind- the death can consumption of Declan. So, just slightly incredibly disgusting then.
Get set for another blood-soaked go-around as Colder: Toss the Bones hits retail this September. Oh, and if you need to catch up, Colder and Colder: The Bad Seed are both available in collected form right now.