DC's world-colliding event comes to a close in an issue that provides plenty of bang for the buck, and a few disappointing moments.
Warning: spoilers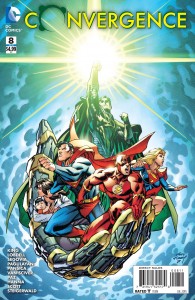 While some of the issues of Convergence were hit or miss, including parts of this one, #8 mainly capped things off right. There's plenty to like in Jeff King and Scott Lobdell's script, and in the team of Stephen Segovia, Carlo Pagulayan, Eduardo Pansica, and Ethan Van Scriver's art. Special note here too for the color effects from Peter Steigerwald, which were excellent throughout.
Even with that though, I have a little bit of a love/hate thing with Convergence, as I'm sure many longtime DC fans do. Originally, I had thought that this event would bring back many of the pre-Flashpoint DC heroes in a 'last hurrah' type of thing. I was honestly excited to see those classic versions of the characters I knew and loved from when I was a kid, and that's not really what we got.
Sure there were a few of those titans. Superman, Flash(s), Batman… but more in the enter stage was the group from Earth-2, who were surprisingly the stars of the crossover. I don't think there were too many that saw that one coming. I have to say though, and I'm as shocked as anyone by this, but I really found myself liking the characters by the end and being more than a little upset by the shocking loss of one of them. As someone who didn't read Future's End or Earth-2 at all, that's saying something.
But while I won't spoil any of those moments here, I will do some talking about the book at hand. The eighth issue wraps up the series and settles things back down in a DC multiverse that's not really all that different than the one that was around before the event. Well, in terms of structure anyway.
This is a spoiler I guess, but the multiverse is still a thing post-Convergence, and it hasn't vanished or collapsed into one universe to rule them all in the DCU. I actually found myself liking that as there are some pretty terrific ways that DC could explore some of those universes in the years to come. Oh, and also, pretty much every major DC time-ripping event in history is now… history. As in gone and undone.
I'll leave the specifics for you to find out when you read the book, but yeah, that was a bit of a shock. Even more surprising is how it's all pretty much glossed over in this issue. So the bottom line here is that there are some negatives in Convergence #8 as to how some things are handled, but there's a lot of good stuff here too.
Brainiac's epiphany came off very well, as did the choice of characters that were focused on. And while we didn't get to see any additional classic or New 52 heroes in action, there were some truly cool moments. There are also a set of heroes who may or may not be out there now, separate from the time-stream, who could be quite the plot-device down the line. Crossing my fingers on that one.
Final Thoughts
After basically hitting one issue I didn't like, then liking the following all throughout Convergence, I'm happy to say that final issue didn't disappoint. Even though there's some stuff that I wish would have been handled a bit differently, I enjoyed the read, and that's really what counts.
I'm also really looking forward to seeing what the publisher does with Earth-2 now that it's being re-established in some way. There's a lot that's extremely cool there and well-done. Also, as I mentioned above, those 'out of place' heroes could be very neat to see again in the future, and Telos himself (one of the main 'villains' of the book) is still out and about as well.
Lots to like in the future and it all really will spin out of Convergence, which is plenty reason to pick it up and read through it yourself.