Welcome back to Miami! The third issue of Miami Vice: Remix keeps the insanity train going. Crockett battles a psychopath with a vendetta, while Tubbs decides to take a closer look at the new drug in town. Irreverent and in your face, Vice continues to deliver.
Warning: Spoilers to follow… because insanity
In the midst of Castillo disappearing and the Miami-Dade station crumbling in the face of bath salts, Tubbs is convinced by fellow officers to go undercover to score some fresh Miami Bath Salts and take them. Well, at least be injected by a diluted form of the drug. Meanwhile, the psychotic brother of Crockett's former partner is beating Crockett half to death. This is only the first couple pages.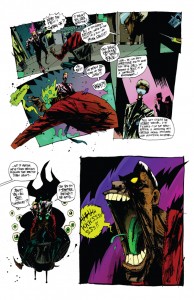 The hits keep coming. Crockett manages to escape with the help from his trusty alligator, Elvis (which I have to assume is an oblique reference to Clarissa Explains It All, kudos). Nursing his wounds, Crockett receives the call he and Tubbs have been waiting for: a meet-up with Mendez.  There's only one problem, Tubbs just got injected with Bath Salts and he's tripping hard.
Ain't nobody got time for this! Crockett quickly subdues his partner and heads over to the meeting, knowing this can't go well. Don't worry, it doesn't.
A punk rock, neon assault on your senses, Remix continues its graphic assault on the senses. The art direction is a home run. The design is reminiscent of early MTV and Ren and Stimpy; it's neon punk rock violence taken to the extreme.
The panel transitions flow nicely and the size and formatting complement the style well. The text is painful though. Extremely stylized, word bubbles can be difficult to read and completely distracting at times. Annoying, but worth ignoring to enjoy the comic.
The story never stops. It's a series of explosive events, keeping both characters and readers on their toes. The quick transitions between scenes and plotlines heightens the erratic world around Crockett and Tubbs, but it also can be confusing for the reader.
Few lead-ins with hard to read text occasionally broke my immersion within the story, but at least things don't feel predictable or boring. Writer Casey also brings a great sense of humor to the dialogue. All in all, a great extension to the previous issues and set up to the next.
Final Thoughts
Miami Vice: Remix #3 is a fast, fun trip into Crockett and Tubbs' crazy world. With no time to breathe, the pacing is a little fast, but keeps the story interesting. The aggressive art and coloring integrate with the story perfectly.
Rocketing through the narrative, you'll feel like you were the one who just did bath salts. The volatile story of Tubbs and Crockett seems far from conclusion, so continue to expect more bizarre, high-paced stories to come.
Follow me on Twitter for more news and general musings: @lmrome3