Nostalgia setting to maximum as Marvel has a series of 'battle standees' ready as promo items that;ll recall the real driving force behind Secret Wars- toys!

One of the main reasons for the original Secret Wars, way back when, was to support a new toy line of Marvel Comics characters. As a result, Marvel tossed all their biggest stars into a free-for-all and had the duke it out. I have some tremendous memories of that event book, but way better ones of the toy line, which was a favorite of mine as a kid.
And that's probably why I'm over the moon excited about these little freebies. Set up as a promotional item set to arrive next month in comics shops across the nation, the battle standees are pop-out Marvel heroes that you can stand up with the aid of some included cardboard (also pop-out) bases. They're nothing special from that description, but where these guys and gals come alive is in the designs that Marvel has chosen for them.
Namely, they look exactly like modern versions of the classic Kenner toys. The Mr.Fantastic even has a little popoid arm, for crying out loud! And while I do wish that these were a little more plastic, I'm just happy that the publisher has taken the opportunity to make something this cool. And hey, if they were 'plastic', then they wouldn't be free, so there's that too.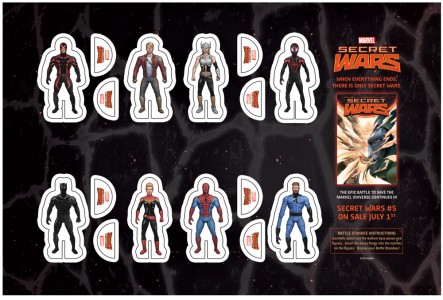 The Secret Wars Battle Standee One-Sheet will ship right along side Secret Wars #4 ad feature some terrific art by John Tyler Christopher. In all, you'll get Mr. Fantastic, Black Panther, Miles Morales,Peter Parker, Star-Lord, Captain Marvel, Thor and Cyclops in the set, all of which are just so cool.
It doesn't stop there though, as July brings the partner pieces to these little battlers with the Secret Wars Landscape Wraparound Variants. These variant issues for some of July's Secret Wars crossover books will feature just what the name implies- landscape covers by Alex Maleev. Blank landscapes that your battle standees would look mighty cool standing up against.
Here's the books that'll be participating:
Age of Ultron Vs. Marvel Zombies #2
Armor Wars #3
Civil War #2
Inhumans: Attilan Rising #3
Planet Hulk #3