Here's a bunch of the tunes that you'l be jamming along to when Guitar Hero Live hits consoles later this year.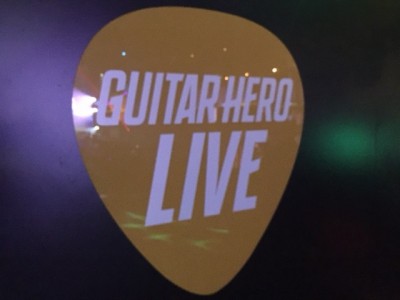 It wasn't too long ago that Activision announced Guitar Hero Live at a private event in NYC. At the time, a lot was made of the GHTV functionality which'll allow gamers to play piles and piles of songs made available via music video, which is to say that these songs won't have Guitar Hero Live's 'graphics' interface in play.
The standard offline version of the game though, will have an interactive crowd and on stage band that you'll be playing with. And for that, you'll need to play some of the songs on the disc (or available as DLC). Some of those tracks have already been announced, but the publisher has just taken the lid off of a few more including some new artists that haven't been discussed previously.
Here's your full listing, as it stands now:
Newly Announced Artists and Tracks:
Judas Priest – "Breaking the Law"
Pantera – "Cowboys From Hell"
Alter Bridge – "Cry of Achilles"
Rage Against the Machine – "Guerrilla Radio"
Red Hot Chili Peppers – "Higher Ground"
Sleigh Bells – "Bitter Rivals"
System of a Down – "Chop Suey!"
Black Veil Brides – "In The End"
The Pretty Reckless – "Going to Hell"
Broken Bells – "Leave it Alone"
Alt-J – "Left Hand Free"
Previously Announced Artists, Newly Announced Tracks:
The Rolling Stones – "Paint it Black"
My Chemical Romance – "Na Na Na"
Fall Out Boy – "My Songs Know What You Did in the Dark (Light Em Up)"
Green Day – "Nuclear Family"
Pierce the Veil – "King for a Day (feat. Kellin Quinn)"
Blitz Kids – "Sometimes"
The Black Keys – "Gold on the Ceiling"
The Killers – "When You Were Young"
Gary Clark Jr. – "Don't Owe You a Thang"
The War on Drugs – "Under The Pressure"
The Lumineers – "Ho Hey"
Ed Sheeran – "Sing"
Skrillex – "Bangarang"
While those are the songs and bands on the table at the moment, there's a lot more to come on this front. Activision says that new playable tracks will be announced weekly, and if that's an open-ended statement meaning 'till the game's release', then there are going to be a heck of a lot of songs in this one.
Stay tuned and don't change that dial, we'll have lots more about Guitar Hero Live as it's released.