Ubisoft just announced their new title for the Assassin's Creed series: Syndicate. For those who missed the earlier leaked information, Syndicate follows assassin and street gang leader Jacob Frye in London during the Industrial Revolution; controlling Frye, you get to take over the criminal underground. Sold yet? Check out the trailer:
Not only are you still a working assassin, but now a class war is brewing between the guys who own the factories and the people working them. Oh, and you're leading your street gang to the top of the criminal dogpile. The smoke and fog covered streets of London better prepare for Jacob Frye.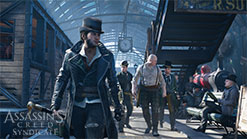 Trust Ubisoft to promise an amazing story. Already I feel myself reaching for my wallet to pre-order, but then I remember Unity. So does Ubisoft. In fact, they directly addressed all the issues of Unity and how they improved upon them for Syndicate. According to Tech News Today, Ubisoft focused on making the game as "fun" as possible for players. Ubisoft is promising a lot to players, here's to hoping they deliver.
Assassin's Creed: Syndicate releases October 23, 2015 on Xbox One, PlayStation 4, and PC. For more gaming news, follow me on Twitter: @lmrome3