Get all the news that's fit to print in this handy dandy handbook, loaded up with all the pertinents on the Valiant Universe.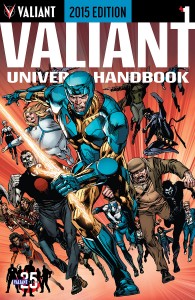 I remember very well the Marvel Universe Handbooks from the 90s. Marvel released a ton of them and I used to actually collect and store them all in a spiral binder like a comic book uber-nerd. Looking back, that was probably not the most necessary of things since I was a huge Marvel fan, and I pretty much had no need for a reference guide.
For those of you who have no idea what I'm talking about; the Handbooks were periodically released catalogs of characters in the publisher's universe. Heroes and villains were included and each 'card' (roughly 8×10 if I remember correctly) would showcase a basic view of a character from all sides and contain a pretty detailed written history of him or her. Regardless of whether or not I 'needed' to have them though, they were plenty cool and, I thought, enhanced my library of comics quite a bit.
Fast forward a few decades and we've now got Valiant Comics launching a similar series with the first issue of the 2015 edition of the Valiant Universe Handbook. Celebrating the 25th anniversary of the company, albeit split into two very different incarnations of the same universe, this inaugural issue of the Handbook sets out to do much the same as the Marvel Handbook did. I have to say though, that this book manages to do it with a flair that the old Marvel ones didn't quite come through on.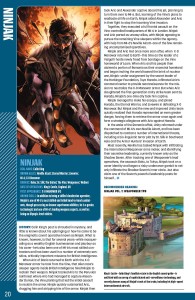 When you flip open the Butch Guice art-covered book, and yes it is a book and not a series of three-hole-punched cards, you'll find an alphabetical listing of Valiant's finest. Running from Animalia (who I wasn't even familiar with) to fan favorite Zephyr, there are 36 entries in all, covering individual characters and teams like Unity and The Delinquents.
You have to remember here too, that the current Valiant Universe isn't all that old. It's still a comic book world that's in its relative infancy and so hasn't been cluttered up with characters and stories that tend to ret-con right through each other. It's straightforward and easy to follow is what I'm saying, and that's a good thing.
Still though, for those just getting into Valiant (with The Valiant or Dead Drop series' perhaps?) this is a really valuable tome. You'll find all the major (and a few minor) characters, and each listing is not only bright and colorful with plenty of art, but it also covers all the major story points up till now. And it's quite current too, ending it's timeline with the Dead Hand arc in X-O Manowar, as well as the close of The Valiant and beginning of Bloodshot Reborn.
I mentioned art above, and you'll find plenty of it here. Stuff from Doug Braithwaite, Clayton Crain, Trevor Hairsine Clayton Henry, Bryan Hitch, Cary Nord, and more graces the pages of the Handbook, and it all looks awesome as the editors picked some terrific pieces to highlight the listings.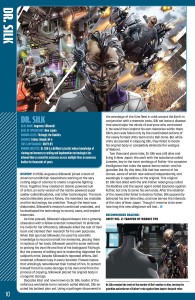 All of the listings are well-written as well and have a really informative bent. If you know zippo about Valiant before you dive into the book, you'll know everything coming out. And even if you know plenty already, then you'll probably still pick up a few little tid bits here and there as I did (I haven't ready everything the company has produced).  What's really cool too, is that at the bottom of each listing has a little 'recommended reading' section that gives you the best book to read featuring the character in question, if you want a breaking-in point. For some of them, it's the only appearance, but still.
Final Thoughts
I guess I'm kind of sucker for these types of dossier-type productions, but I loved flipping through the Valiant Universe Handbook. It's loaded with complete histories (up to a few months ago anyway) for al the characters in Valiant's world, and some of the best artwork you'll find anywhere, so there isn't too much not to like.  I probably would have preferred it was in the previously mentioned three-hole-punched style instead of an actual comic book format, but that's about the only thing I could cite as a negative here, and even that's purely personal taste.
If you're thinking of getting into Valiant, or just have, then this is a book that you should be getting. And if you've been following since the rebirth back in 2012, well, then it's probably still worth having in your collection. At the very least, it'd be worth it to check out.