Dark Horse's new Witcher contest is loaded up with a plentiful pack of prizes, including PS4s, signed copies of the new game, and more, and all you need to do to take it all is to craft a winning vision of The Witcher.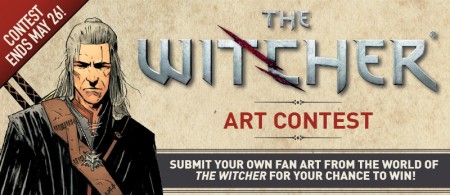 There'll actually be a trio of winners, as Dark Horse Comics and CD Project Red has three levels of prizes set for the end of this contest, and all of them are great. But to win, they're asking you to prove what a Witcher super-fan you are, not to mention how artistically inclined you may be. Your mission is to come up with a "drawing, sculpture, painting, digital design, or something else entirely" featuring The Witcher. Once you're done with your masterpiece, you'll need to officially enter, which you can do by sending in your original fan art via this tab on the Dark Horse's Facebook page, or here on the contest website by May 26th.
Winning is going to be easier said than done of course, thanks to the fact that there are a lot of Witcher fans and these prizes really are pretty fantastic, but somebody's gotta grab all this awesome stuff, why not you?
Here's what you can win:
One grand-prize winner will receive:
PlayStation 4
Collector's edition of The Witcher 3: Wild Hunt, signed by the CD PROJEKT RED developers, with statue
Autographed original art from the game
The Witcher skateboard
The World of the Witcher limited edition art book
The Witcher Adventure game (physical and digital editions)
The Witcher T-shirt
Volume 1 of The Witcher comics
The Witcher digital comic collection
One first runner-up will receive:
The Witcher 3: Wild Hunt for the platform of their choice, signed by the CD PROJEKT RED developers
Autographed original art from the game
The World of the Witcher
The Witcher medallion
The Witcher Adventure Game digital edition
The Witcher T-shirt
Volume 1 of The Witcher comics
The Witcher digital comic collection
One second runner-up will receive:
The Witcher 3: Wild Hunt for the platform of their choice, signed by the CD PROJEKT RED developers
The World of the Witcher
The Witcher medallion
The Witcher Adventure Game digital edition
The Witcher T-shirt
Volume 1 of The Witcher comics
The Witcher digital comic collection