Gamers really, really want to get their hands on the third installment of the Witcher series.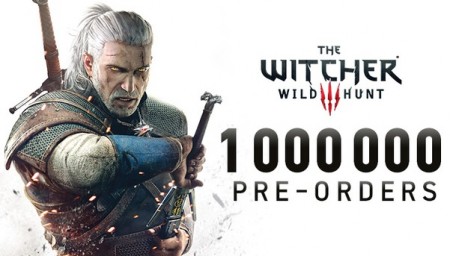 Call me crazy, but I think that CD Project Red might have a hit on their hands with The Witcher 3: Wild Hunt. The game has fans in a fervor, has become a hot topic just about everywhere, and has now officially racked up some 1 million pre-orders globally.
"We've crossed the 1 million pre-order milestone and it's all thanks to you guys! We would like to thank all the gamers for their trust and support," said Marcin Iwiński, co-founder, CD PROJEKT RED. "This is the last stretch and we're pushing hard — over the last two weeks, we've increased performance on all platforms and started working full speed on the expansions, Hearts of Stone & Blood and Wine," concludes Iwiński.
With the way that the game looks (that being spectacular), and the scope and grim and gritty air that it has, it's honestly no wonder that it's getting this kind of attention from the public. There's been a sizable delay, as it was originally supposed to see launch some time ago, so I'm sure that's helped get prospective players frothing.
The Witcher 3 is set to be the last in the series fro CD Projekt, and follows star Gerald of Rivia on his greatest quest ever. His task is to retrieve the Child of Prophecy, and he'll be doing that in one of the best looking open-worlds to ever grace a video game. There'll also be plenty more for you once the main mission is said and done (not to mention the side-missions).
CD Projekt has announced that a series of 16 pieces of DLC will see release for the game, all of which will be free. Yes, you read that right. Yeah this game might be a little bitter-sweet for fans of old Grealt, but with all that on their plate, they've got a lot to be happy about too.
The Witcher 3: Wild Hunt arrives on the Windows PC, PS4, and Xbox One on May 19th.