Shocking though it might be, it looks like Middle-earth: Shadow of Mordor is getting a Game of the Year edition.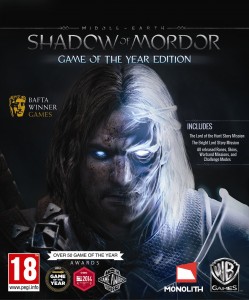 One of the best games of 2014, the open-world Lord of the Rings spinoff title from Warner Bros and Monolith Productions was one to savor if you were a fan of the property it was based on. There haven't really been too many great LotR games after all, all I can really think of off the top of my head are the original games from the PS2 era (and those were really just brawlers) and the pair of RTS titles that hit the PC and Xbox 360.
Shadow of Mordor changed all that though, with a great original storyline set between The Hobbit and The Lord of the Rings films, this game offered true open-world action set deep in the land of the enemy. One does not simply walk into Mordor… unless one is a wraith-enhanced Ranger named Talion.
The game also offered one of the coolest innovations seen in that enemies would remember you, and either fear or hunt you down after you had encounters with them. You could also directly affect Sauron's budding Orc army by decimating its ranks from within, using spies and assassinations as you saw fit. It was a great game.
And if you missed out on it, or just fancy another go around with it, then you're in luck. Unsurprisingly, Warner Bros has seen fit to re-release the title as a Game of the Year edition, filled to the gills with extra content. The new version of the game comes with the base adventure, plus all the currently available DLC, which means you'll get:
Story Packs: The Lord of The Hunt and The Bright Lord
Skins: The Dark Ranger, Captain of the Watch, Lord of the Hunt, The Bright Lord, Power of Shadow and Lithariel Skins
Runes: Hidden Blade, Deadly Archer, Flame of Anor, Rising Storm, Orc Slayer, Defiant to the End, Elven Grace, Ascendant, One with Nature
Missions: Guardians of the Flaming Eye, The Berserks and The Skull Crushers Warband Missions
Challenge Modes: Test of Power, Test of Speed, Test of Wisdom, Endless Challenge, Test of the Wild, Test of the Ring, Test of Defiance Challenge Modes
Additional Features: Photo Mode
You don't have too long ti wait for this one either, as Middle-earth: Shadow of Mordor Game of the Year Edition is heading to store shelves on May 8th for the Xbox One, PS4, and Windows PC.