All's very far from well in Miami in issue #2 of Lion Forge Comics' Miami Vice Remix.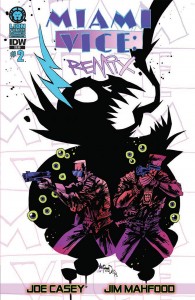 Man I'm digging this series in a big way. The second issue of Miami Vice Remix is absolutely loaded with action, and a bunch of new story points. It's kind of funny, but each issue tends to feel like two or three comic books when you finish it off since they run so heavy with happenings… and I mean that in a good way.
Picking up where the last one left off, undercover detectives Crockett and Tubbs are on the hunt not only for the dealer who's been supplying Miami with a dangerous new drug called Miami Bath Salts, but also searching for their Lieutenant's daughter in an off-the-books case. Castillo by the way, is oddly absent from this issue, and I kind of missed his intensity and screaming matches with the two detectives (seriously, that guy's head is going to go 'pop' at some point). Both main storylines are unfolding in some interesting ways though, and this issue even tacks on a third. Trouble finds Detective Crockett, as someone from his past is back for revenge.
Let's get back to the main story though, as it's definitely the drug case. Seems the Miami Bath Salts are actually turning users into living zombies. They can be killed, but are otherwise displaying all the attributes that a recently turned zombie would- namely chewing on people and having no rational thought-processes whatsoever. All in all, it's a pretty unique take on the undead, especially since they're not really dead at all.
As is becoming a main theme in the book, the story jumps around a lot, and so it doesn't spend the entirety of the tale focused on the zombie-drug. This isn't a huge knock, as Casey's script is very well put together and flows beautifully though each element. I am beginning to wish the book had more time to get a little more detailed with each segment of what's going on, but it's a trade off that I'm happy to make since you just get so much story out of the whole.
It's also pretty damn funny with some great comic moments, as well as little tells here and there that will remind you of the classic characters that these new versions are based on. Basically, Casey's keeping the story and main players fresh, while also familiar (if you were a fan of the show).
Let's talk about Andy Mahfood's artwork for a second too, as it's still something of an acquired taste for me. It's got a very abstract, and hyper-stylized look that definitely works though. I've mentioned before I'm usually not one for this kind of stuff, but his work comes off great here and adds to the atmosphere in some terrific ways. I particularly liked his 'zombie' depiction, and the emotions that he's able to evoke from both Crockett and Tubbs are just fantastic.
Final Thoughts
I like this book a lot. Originally, I was more under the assumption that if you weren't a fan of Miami Vice, you probably wouldn't be able to get into what Lion Forge has going here too much. It was a pretty unique show after all. But that's just not the case at all.
Here in the second issue, you can clearly see that the groundwork is being laid for a run that should be easily accessible for anyone. Basically, if you like action, and not even 'cop' type stuff, you'll probably like what's happening in Miami Vice Remix. The script is a blast and the panels move at a lightning pace with a ton of action packed in, all of which makes for a great read.
This one's well worth checking out, and since the series is still only 2 books old, you can still get in before Lt. Castillo's head explodes.