Your pens and paper clips might not be as exciting as Arrow's crime fighting gear, but it'll all look plenty cool stored in this handy little desk set from Icon Heroes.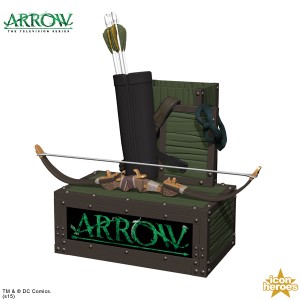 Icon Heroes makes some cool stuff, and has been on a roll with bookends and mousepads crafted with Batman, Superman, Flash, and Arrow imagery. With their track record, chances are that the Arrow pen and paper clip holder won't disappoint for fans.
Pens, pencils, paper clips… and anything else that you can wedge into this new desk set should feel right at home. With two storage spots and measuring 6″ x 6″, this resin replica of Oliver Queen's arsenal should have plenty of room for your everyday desk items, or some tiny arrows (wonder if it'll fit a teensy boxing glove arrow?).
You'll be able to snag one for yourself when it hits retail this Holiday for $39.99 USD.