Pick up Mortal Kombat X this week? Then you're going to want to have a look at the Mortal Kombat X Wired Fight Pad from PDP, because this controller and fighting games go together like fists and smashed skulls.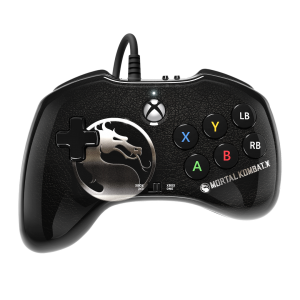 I'm not the biggest fighting game guy in the world. I actually like the genre quite a bit, but I'm just not that great at them, and therefor really haven't ever looked at buying a fighting game-specific pad before. I just didn't think I played them enough to justify it. In fact, the only dedicated 'fight' pad I ever owned that was similar to the one in question here was the Street Fighter six-button pad for the 3DO. Yes the 3DO, don't judge, that version of Super Street Fighter II (and Samurai Showdown) was the best.
That's been it till now though. But if fight pads are, in general, anything like this one from Performance Design Products, then I've been missing out. All told, this is a fantastic little controller and offers a massive change in control dynamics over the standard Xbox One or 360 pad. Oh yeah, I should mention that it actually works for both consoles by the way (so does the PlayStation edition). You just hit a little slider on the bottom the face and it switches over.
Before we get to all the cool stuff though, lets get this out of the way first; you may have noticed from the actual name of the product, but this fight pad is wired. Yes, I know, everybody wants a wireless pad these days, but there are some who believe that a wired controller actually gives you noticeably faster input times, which couldn't be anything but a good thing when you're talking about a fighting game.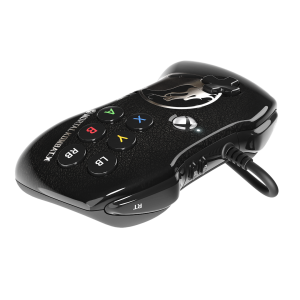 The cord is actually pretty long too, so unless you have a massive living room, there's plenty of length to stretch from the TV to your couch. If given the choice, I would have liked to have had the cable have a fabric cover for aesthetics sake, but it's not the end of the world that it doesn't.
Okay, so now that we're done with that business, lets move on to the stuff that actually matters.
The body and construction of the Mortal Kombat X Wired Fight Pad is top notch. The controller itself is light as a feather, a nice bonus gained from not having that battery pack to carry around, and the shape of the pad is lopsided to the left. This creates an interesting situation in that your left hand rests on the pad in the usual way that it would on any other, but your right hand naturally sort of curves down under the controller.
It might not seem like anything major, but I found that my right thumb was generally in a better position to hit the buttons from this position, and it definitely felt like I had a better handle on the controls. And about those controls, the Wired Fight Pad has a spread of six buttons right on the face, Genesis six-button style.
The A, B, X, and Y buttons are joined by RB and LB to give you supremely easy access to everything. All of the buttons on the face are almost flush with the housing and have barely any depth, so a very light touch is all you need to pull off moves. Even nicer, they click with a mechanical sound when you depress them, which is meant to be an audio cue, but I just liked the noise to be perfectly honest.
While the triggers stay where they are on the stock controller, they're also a little easier to activate on this pad since you don't have to work around hitting the bumpers as well in the heat of battle since those buttons are, again, on the front of the pad. As for the Menu and View (start and select) buttons, those have been moved to the top of the controller, and are somehow still easily accessible, though they don't get in the way at all.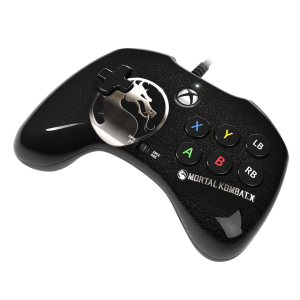 The Guide button is in the same place as it always is though, so that didn't change, but one thing you won't find here are any analog sticks. In a move that's close to my heart, as I hate using the stick to play fighting games, PDP has removed both sticks and gone with a totally digital control element. And the classic 'plus' D-Pad that's housed on the left side of the pad works like a charm. It's such a simple solution for control, but one that really doesn't get too much better if you prefer the pad over a full-blown joystick (and I definitely do).
You'll also notice that the rear of the controller has a grippy, rubberized surface. I don't know how effective it is, but it's something I've seen before on some higher-end controllers before, and I happen to love the feel of it while playing. I mean, my hands don't exactly go flying off the pad in the middle of a match… ever, so I don't know how much I really need to have a rubberized grip on the thing, but it's cool and very comfortable to hold onto, so that's worth pointing out.
Final Thoughts
PDP has made a killer of a controller here, and one that I think pretty much any fight fan would get a great deal of use out of. I will absolutely be using this as my default fighting game pad going forward, no question, whether I'm playing Mortal Kombat or something else.
The thing just works and most importantly, comes through on its promises. And as long as the game you're playing doesn't require an analog stick, I can't imagine this controller not working great with it. The construction is fantastic and the button placement and functionality is spot-on perfect. Unless you have a serious issue with using a wired pad, you need to give the Mortal Kombat X Wired Fight Pad from PDP a look and think about adding it to your peripheral arsenal.