Take a trip through the Marvel Universe's past with the Avengers in this new volume from Thunder Bay Books.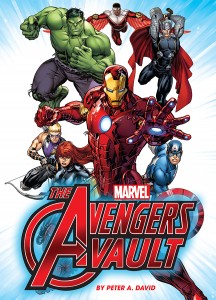 Probably all I have to say to sell you on this one is that Peter David is the author. If for some reason you don't know that name, then all you really need to know is that he's one of the greatest Hulk writers of all time, lasting an amazing 12 years on the Marvel book. He's also worked on tons of other properties like Star Trek: The Next Generation, X-Factor, Aquaman and more. So chances are, that if you're a fan of some of the biggest pop culture icons of all time, you've read a Peter David story at one point or another.
He's a comic book industry mainstay, and that's the point of view that you get in the The Avengers Vault from David and Thunder Bay Press. More than just a retelling of the history of one of Marvel's biggest and most celebrated superhero teams though, this is a 'vault' book, which means that it contains some cool extra elements added to the formula of what you'd normally find in a 'history of' book. Even though there are some nice additions though, there are not as many as I would have liked to have seen. Don't get me wrong though, what is here is pretty nifty.
Included are reproduction pages of early Marvel books, and posters featuring classic artwork as well, all styled to look as though it was the original stuff. How it's packed in is very different than most other 'vault' books I've read too, in that at the close of each chapter you'll come across a cardboard pocket. Pop that pocket open and you'll find the goods- though you may have to dig a bit. There's some cool stuff here too, though again, not nearly as much as I've come to expect from tomes like this. Usually, with a book that labeled with the title of vault, you can expect quite a bit of stuff like I mentioned above, not just a few pieces, but that's all you get here.
Slight disappointment in the extras aside though, this is a fantastically made title for Avengers fans to dig into. David kicks things off with a look back at the team throughout their history, and he gets surprisingly in depth. More than making up for the relative lack of goodies with pure history, you'll find mention of classic Marvel events like Acts of Vengeance (one of my personal favorites) and Onslaught. The history lesson runs right up till 2012, so you won't find the major happenings of 2013/14 in here, but it's a fast retelling that's shockingly complete and, for that alone, it's terrific. In fact, if you know anyone who's an Avengers newbie and just getting into the team because of the movies, then this is a solid start for them.
Moving on from there, The Avengers Vault explores the major members of the group, with chapters dedicated to Captain America, Iron Man, Thor, and The Hulk. Each individual history covers all the major events, villains, and comics and is pretty long and incredibly descriptive.
Captain America's chapter covers The Red Skull (who was inspired by a hot fudge sundae- really), MODOK and AIM, Baron Zemo, and more. Capping things off? Reproduction covers of John Romita Sr's Captain America #114, complete with notations and including both the uncolored version and a rough cut color guide, which looks to have been shaded with marker. If you've never seen stuff like this, it's a really cool peek behind the scenes on a comic from a simpler time. Sure, today the majority of comics are done digitally, but it's just super-neat to see what things used to be like, in a simpler (some might say 'better') age. You also get a copy of an original Captain America Fan Club membership card, which is all kinds of cool.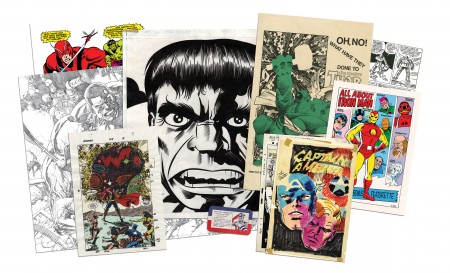 As for the artwork throughout the book, it's all classic and original art. What that means is that there's really nothing that was done specifically for this book, and that's a good thing as far as I'm concerned. The original work that's featured is some of the most poppy and 'comic book' type stuff that has ever been featured in the medium, so to get to thumb through it as you read the history of the Avengers is a real treat.
Keep in mind though that some of it definitely shows its age, with simple-looking depictions of action and basic (by today's standards) character designs, but the men who drew this stuff are considered pioneers of the industry and some of the all time greats for good reason. And if you're new to the comic book world, then this is almost kind of a second history lesson, a visual one, and one that you should definitely pay attention to.
Final Thoughts
The Avengers Vault comes at a great time for the property and the characters that figure into it. Not only are they constantly on the minds of fans of all ages thanks to the Marvel comics, but they're even in the public consciousness of non-comic fans thanks to the blockbuster films that've hit theaters, including next month's Avengers: Age of Ultron.
Suitable for all fans, from casual to hardcore, Peter David's chronicling of the Avengers is an extremely worthy addition to just about anyone's bookshelf. The extra's might not be as plentiful as I'd have liked them to be, but what's here is solid and impactful, and adds a great deal to an already terrifically put together book.