There was a lot to like in comic shops in March, including some monster new release books as well as a few pretty awesome toys. Here Diamond, the de-facto source for all things 'comic shop', breaks down the best of the best and the biggest sellers.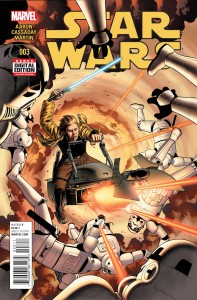 All of this stuff varies accordion to taste of course, so you might see a few things on this list that leave you scratching your heads. I know there are a few things that I don't really care for, and some that I do, so you're probably going to be the same. What is a fact though, is that all these things sold by the boat load.
So who was on top for the month? Well, that's an easy one because it was Marvel Comics by a mile over everybody else, with DC in second place (and a mile over everybody behind them).
Moving into a little more specific of a category, the top books of the month shook out to be of a similar looking list to the one above, with Marvel comics a plenty. The publisher dominated the chart of the top ten, with some very unconventional books (Howard the Duck? Really?!) as well as traditional favorites like Spider-Man, who appeared more than a few times.
The lone bo0k outside Marvel actually, was the video game-powered Batman: Arkham Knight #1.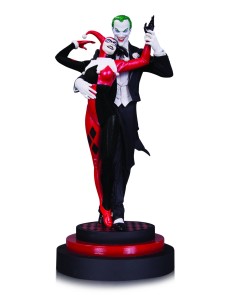 Lastly, we'll take a peek at the best selling toys of the month, as that's a little more interesting. Only one Marvel-themed entry is on this list with the excellent Marvel Select Cable figure featured, and all the rest are a nice mix of DC heroes, Ghostbusters, Star Trek and more.
| | | | |
| --- | --- | --- | --- |
| | | | |
| | THE JOKER AND HARLEY QUINN STATUE | | |
| | MARVEL SELECT: CABLE ACTION FIGURE | | |
| | ARROW: DEATHSTROKE ACTION FIGURE | | |
| | GHOSTBUSTERS: BURNT STAY-PUFT MARSHMALLOW MAN BANK | | |
| | STAR TREK SELECT: WORF ACTION FIGURE | | |
| | JAY & SILENT BOB: BUDDY CHRIST BANK | | |
| | BATMAN: ARKHAM CITY: CLAYFACE DELUXE ACTION FIGURE | | |
| | GODZILLA: BURNING GODZILLA VINYL FIGURAL BANK | | |
| | MY LITTLE PONY: APPLEJACK BANK | | |
| | BATMAN: ARKHAM KNIGHT: BATMAN STATUE | | |
So did your favorite stuff make any of the charts? And if it didn't, what'd you pick up this past month that didn't chart with other fans?