Marvel's original comic book adaptations of the complete Star Wars trilogy is on the way in remastered form, and artist Adi Granov has a pair of awesome pieces of art to go along with them.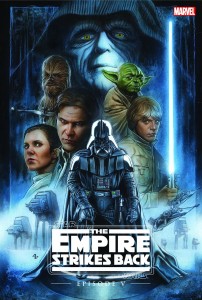 We already took a look at the cover art for A New Hope, which'll be the first of these remastered graphic novels to hit stores (obviously), and here we are with the rest of the series. Ari Granov has made quite a name for himself in the last few years with some excellently detailed and realistic work for Marvel, and these two are no exception.
Usually I find his work a little too realistic for my tastes, as I dig a little more cartoony of a look for my superhero comics, but it fits to a tee for Star Wars. The pieces look like movie posters for Star Wars episodes V and VI and that's absolutely perfect for what we're talking about.
The first book is scheduled to hit next month, so you don't have too long of a wait to start your collection, with the other two arriving throughout the rest of the year.