One of the strangest crossover events set up for this coming Summer is also one of the most oddly fitting.
"We've looked forward to bringing these two iconic universes together for a long time," said Greg Goldstein, IDW President and COO. "Star Trek and Green Lantern both share so many of the same science-fiction adventure themes and ideals, that a galaxy-spanning crossover like this is simply… logical."

"Green Lantern is one of the most popular, storied characters in the history of comic books and a modern DC Comics icon.

An entire universe of Green Lanterns and other supporting characters have grown out from his original adventures in the 1940's, and this series really showcases the intergalactic scope of the franchise," said Bob Harras, Editor-in-Chief of DC Comics.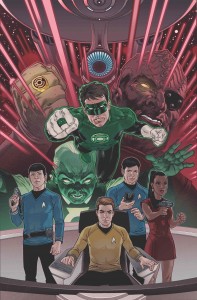 As far as these big, inter-company crossovers go, this one's a solid fit. After all, as Goldstein pointed out above, both properties are pretty similar when you think about it. The biggest differences really are that Trek takes place in the distant future and in a hard sci-fi setting, while GL is a superhero story at its core.
Both sets of adventures follow a peace-keeping corps of space-faring men and women though, both are loaded up with alien life of the good and bad variety, and both are pretty darn popular in a continuous way. And as a pretty huge fan of both (well, more an original Trek timeline fan really), I'm pretty darn excited to see how this book gets pulled off.
What we know so far is that Hal Jordan will be involved, as will the crew of the Enterprise from the JJ Abrams-verse version of Star Trek. How they come together is anyone's guess, though it looks like the rings of the "spectrum" will play a part, as different Trek characters will get ahold of them as one of the main plot points. As you can see from the poster too, a certain Klingon has a certain yellow ring too, which is bound to be all kinds of trouble.
Set in Star Trek's 23rd Century, the balance of the universe will be tested when the Green Lantern Corps' Power Rings come into the possession of certain Star Trek characters while a dark and powerful evil looms around every corner.  Only the combined power of the Green Lantern Corp and the Federation stand any chance of stopping those who worship evil's might.
Star Trek/Green Lantern: The Spectrum War is set to hit the stands from IDW and DC Comics this Summer. Expect to see writer Mike Johnson and artist Angel Hernandez taking on the first issue of the six-part series, with subsequent issues coming from talent like Declan Shalvey, Marc Laming, and others. The cover spread should be pretty awesome as well, with stuff from Gabriel Rodriguez, Francesco Francavilla, Elsa Charretier, and Garry Brown.