Dark Horse Comics' and writer Brian Wood's latest is a book about the first stages of the American rebellion. And surprise- it's awesome.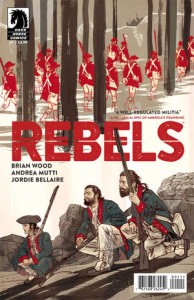 Rebels is a tale that takes place in the earliest days of the American revolution, and it pulls absolutely no punches in its fictionalized depiction of events.
Things kick off after the opening shots of the revolt against the crown, after the legendary Boston Tea Party, and in the somewhat sleepy colony of New Hampshire. It's here that we meet Seth Abbott and his family, and get indoctrinated into one of the first militias in what would eventually become the US.
These men are angry at what's happening in the colonies and at the liberties that England is taking with them and their land, and they're not afraid in the least to fight back and claim what they see as theirs. Though I won't be spoiling the story any here, I can tell you that at a very young age, Seth learns how brutal this rebellion will be. That's not to say that we stay with the main character as a boy though, as the story cuts to him as an adult fairly quickly.
Wood does just a flat-out tremendous job here in all aspects. He's retelling a familiar story, but without the clear cut and often black and white depictions that the history books present. He even draws several comparisons to the modern age, going so far as to even reference the 'occupy movement' in one scene. All of which serves to further connect with the reader and pull you into Rebels' world.
It's not all revolution though, as Wood also gets into the personal life of Seth. He meets someone who will eventually become his wife, and interacts with a man he considers his brother, all while simmering war boils up around him. If that sounds like a complex look at the revolution, and a more mature view of events, that's kind of because it is.
Providing the visuals here is Andrea Mutti, who likewise does a stellar job. Though you might not know the name, you definitely know Mutti's work from Dark Horse books like Conan and Star Wars, and comics from other publishers as well. Clean and realistic, but with a clear comic book edge, Mutti paints a rough and tumble picture of the rural life in early America, under British rule. It's great stuff that pops in a way that I'm not used to seeing from something that's set in this particular time period.
I have to also make a quick note of Jordie Bellaire's color work in Rebels, because it's top notch. Ultra vivid and highlighting the artwork, Bellaire shines here. It's not overly common that I feel like I have to point out color work, but here it's so good that it's necessary.
Final Thoughts
I'm beyond impressed with Rebels. It feels like an event book, and almost seems like something that's pure fiction because of that. It's tough to picture that, while this particular tale is fiction, stuff like this actually went on here in the States in the 1700s- and still does go on in some parts of the globe.
There's plenty of historical fact in Rebels, so much so that I have to imagine that someone who's not normally into comics might really enjoy this book as well. As someone who's the opposite though, and thought that the 'history' lesson might get in the way of a good story, I'm very happy to say that it does not in any way, and I'll be eagerly awaiting the second issue.
Rebels is pretty easily my book of the year so far and not to be missed.