The PlayStation console exclusive Street Fighter V will be hitting retail right along side a new line of sticks and controllers from peripheral-giant Mad Catz.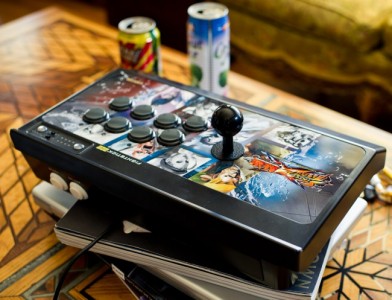 Itching for some customized Street Fighter controllers to jam on when SFV comes to the PS4 (which may be next year)? Then you're going to love what MadCatz has in store. The company has just announced a full line of sticks and pads that'll be deco'd with graphics from the super-popular fighting game series, that'll also be exclusive to Sony's console.
"Street Fighter is the most renowned fighting game franchise in gaming and we're excited to be part of Street Fighter V, the first title in the series to launch on PlayStation 4," said Darren Richardson, President and Chief Executive Officer of Mad Catz.  "More passionate gamers choose our range of fighting game controllers over any other as they demand quality and precision to help provide a winning edge.  We're confident that our new range will continue to establish Mad Catz as category leaders and prove highly popular to established fighting game players and those new to the series."
Mad Catz is the 'Premier Sponsor' of the eSports Capcom Pro Tour too, so they know a thing or two about the competitive nature of the fighting game genre. They'll be timing the releases of these controllers for when the game hits shelves as well, though they haven't quite yet delved into the specifics on them as of yet. The company usually makes some pretty awesome stuff, so if you're in the market or will be looking to upgrade your controller(s) come SFV time, then you'll probably want to keep an eye out for these.
We'll have more as it develops, and some pics of the new units as soon as they're released.