The enigmatic Ninjak gets a starring role in one of the most highly anticipated Valiant releases of the year.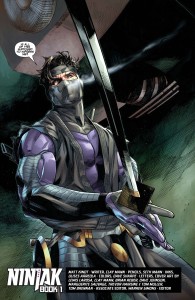 One of the bigger characters from he original Valiant run back int he 90s, Ninjak has been in the shadows here in the current age of the publisher's universe. Since debuting in the pages of X-O Manowar and then featuring in Unity (Valiant's big team-up book) though, he's made a splash with fans. Enter the first issue of the ongoing Ninjak series.
Ninja is an interesting book for a few reasons. For starters, it's kind of half spy thriller, half martial arts action-fest. And then there's the actual breakdown of the stories, which are split between now and years ago, when Colin King was first training to be a secret agent, and couldn't fight his way out of a paper bag. That might seem like a strange dichotomy, but it does work, and pretty darn well too.
Things kick off with Ninjak in the modern age though, as he goes on a mission to find and rescue the super-powerd agent of an international weapons-smith who's been captured by eh Russians. It's actually a fairly complicated plot, and one that leads into a bigger tale where Ninjak (Colin) goes undercover to bust up said weapons-smith's operation. The story is sprinkled with elements of Ninjak's farthest past too, when he was a boy. Here we learn that his upbringing was anything but comfortable, actually it's downright dark and somewhat disturbing. Let's just say that, unlike a certain other rich kid turned hero, Colin didn't have the best caretakers…
As for the second half of the comic, the 'follow-up story could easily be the main one as it trails Colin when he was in training to be a covert agent of the crown. Presumably, we're going to find out just how it is that he becomes the nearly unstoppable ninja that can go toe-to-toe with X-O Manowar, but here in the early goings he's just about clueless in the fighting arts. But that's something that I'm not going to go too deep into, as it's kind of spoiler-rific if I do, and this is a story that really has to be read in its entirety to fully appreciate, instead of being broken down into bits any further than I already have.
I'm a big fan of writer Matt Kindt and his work with Valiant's other books, as well as the surreal Mind Mgmt from Dark Horse, and he does not in any way let down with Ninjak #1. The guy can spin a yarn in just about any genre apparently and that comes through especially here, which again, walks the line between ninja-action and spy-thriller. Kindt writes both parts of the story (modern and flashback) masterfully, and makes the entire read one that fans and newcomers to the character should appreciate.
Art-wise, Clay Mann and Butch Guice both do an excellent job. I'm personally more of a fan of Mann's style, but then again, both artists have very different stories to tell with Ninjak and their styles are particularly fitting to both ends of the book's spectrum. Mann casts the super-heroic Ninjak as the operative that he is, while Guice paints a picture of the somewhat unsure and inexperienced Colin King perfectly. It's a fantastic package overall.
Final Thoughts
If you like Ninjak, and have been waiting for him to bust loose in his own solo book, then you're probably going to buy this book no matter what I say here, but it sure does help that it's very nearly perfect in just about every way. If you're not a fan, and are thinking about jumping onboard at the start, then you couldn't have a better intro for the character- both past and present.
Ninja #1 is an easy recommendation from me for anyone who's into martial arts action, 007-like espionage, and just plain old great art and storytelling- do yourself a favor and grab a copy.