The Humble Bundle is ready to be transformed yet again, as IDW Publishing's Transformers comics are back up with a whole new deal.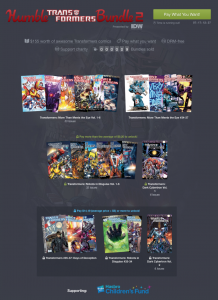 IDW's various series' of comics about the Autobots and Decepticons are some of the best to feature the bots in years, and now you can snap up the first 37 issues of TRANSFORMERS: More Than Meets the Eye and the  Death of Optimus Prime one-shot, in one fell swoop. What's particularly great about this bundle deal too, is that it's incredibly current. So if you've missed out on the recent run of the book, this would be a fantastic place to start your digital collection.
"This new bundle of Hasbro's TRANSFORMERS comics features the newest directions for Optimus Prime, Megatron, and all your other favorite Autobots and Decepticons," said Jeff Webber, IDW's VP of Digital Publishing. "This collection includes brand new issues all the way up to the past month, documenting the very latest stories in IDW's TRANSFORMERS Universe!"
As usual, if you pay something above the current average, you can get more. A lot more. Fans who dig in for a little extra will get volumes 1 through 6 of TRANSFORMERS: Robots in Disguise, and the excellent TRANSFORMERS: Dark Cybertron Vol. 1. Now that's a ton of TF comics, but we're not done yet.
Also as usual, that's not all you can add to your library, as long as you're willing to pay a little more. If you bump up your price to just $5 USD above the average that everybody's paying (and lets face it, that's not a lot), you'll also get TRANSFORMERS: Robots in Disguise #'s 33 through 37 and the second part of TRANSFORMERS: Dark Cybertron, with Vol. 2.
Proceeds from the sales go to Hasbro Children's Fund, which is dedicated to bringing a little happiness to kids who need a reason to smile, so you can't really lose out in this deal. It's a ton of Transformers comics for not a ton of money (unless you'd like to give more), and the cash goes to a great cause.
Unlike most Humble Bundles though, this one is good for one week only and will run dry on the 11th of March at 11am Pacific time.