You'll finally be able to take Snake into the free-roaming would of Hideo Kojima's spectacular-looking Metal Gear Solid V this Fall. And if you're a mega-fan, you're going to want this mega-collector's edition.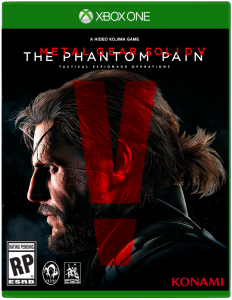 Lets start with the release date here, because there's actually a lot to go over. Konami has made it official; Metal Gear Solid V: The Phantom Pain is heading for retail on September 1st, 2015. The biggest game in the series to date, The Phantom Pain tells the story of how Big Boss came to power, and it does so in an open-world, which is a first for MGS.
Day and night cycles, a weather system, and more mark what's a flat-out incredible looking title. And that's just the looks. As we all know, actor Kiefer Sutherland will be playing the role of Snake this time around, and will be joined by the villainous (and hideous) Skull Face and the silent-but-deadly sniper Quiet.
The series' signature CQC, or close quarters combat, system has also undergone some changes and Konami promises that there's more to it than ever before. And that's a good thing, because the enemy AI has also been "vastly improved" according to the publisher. So you'll probably want to get sneaky, and take down your enemies as quickly and quietly as possible.
Once you get done with the single player, there's a new multiplayer mode to explore as well. This competitive multiplayer mode will set gamers against each other with characters that long time fans are sure to recognize, like Venom Snake and Revolver Ocelot. So, bottom line, there's a lot to do in MGSV.
And there's a lot in the collector's edition of the game as well. There'll be a "Day 1 Edition" and a "Collector's Edition" made available to gamers when the title drops this September. The Day 1 won't just include the base game, but will have the following in the box:
"Day 1 Edition" Content (Physical Version*)
DLC items
Adam-ska Special Handgun
Personal Ballistic Shield (Silver)
Cardboard Box (Wetland)
Fatigues (Blue Urban Snake Costume)
METAL GEAR ONLINE XP BOOST
*Digital Version contents to be announced at a future time
**Steam version will include the above DLC content at launch
As you might imagine though, the Collector's Edition will have a heck of a lot more. Here's what you're in store for if you decide to go that route:
Collector's Edition Content (Physical Version Only):
Half Scale Replica of Snake's Bionic Arm
Collectible SteelBook
Behind the Scenes Documentary & Trailers Blu-ray Disc
MAP
Exclusive Packaging
DLC items
WEAPON & SHIELD PACK
Windurger S333 Combat Special Revolver
Adam-ska Special Handgun
Maschinen Taktische Pistole 5 Weiss Special Handgun
Rasp Short-Barreled Shotgun Gold
Personal Ballistic Shield (Olive Drab)
Personal Ballistic Shield (Silver)
Personal Ballistic Shield (White)
Personal Ballistic Shield (Gold)
CARDBOARD BOXES
Cardboard Box (Rocky Terrain)
Cardboard Box (All-Purpose Dryland)
Cardboard Box (Wetland)
SNAKE COSTUMES
Fatigues (Black Ocelot)
Fatigues (Gray Urban)
Fatigues (Blue Urban)
Fatigues (All-Purpose Dryland)
Other
MGO BOOST
METAL GEAR ONLINE XP BOOST
MGO Items
Metal Gear Rex Helmet
AM MRS-4 GOLD Assault Rifle
WU S. PISTOL GOLD
Yep, that's your big boy right there. The price difference is big too, though not nearly as bad as some CE's that are floating around out there, that are stocked with a lot less in the way of goodies. The Day 1 edition of Metal Gear Solid V: The Phantom Pain will run you the usual $59.99 USD for the Xbox One and PS4, while the Collector's Edition will cost $99.99 USD. See, not all that bad really.
The PC version will also cost you $59.99 USD, but if you're looking for the last-gen edition, you can expect to pay $49.99 USD for either the Xbox 360 or PS3 version. Note also that there will be no CE available for the last generation consoles or for Steam, though that Steam version will come packed with some of the digital extras that console gamers can find in the boxed version.