Icon Heroes has been certainly busy on the bookend front with Batman and Superman sets, and now a single 'end based on the hit TV show Arrow.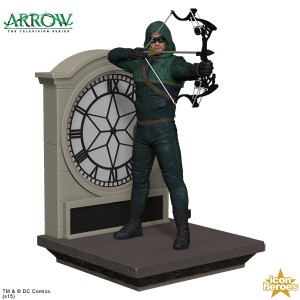 Perfect for holding up your Green Arrow graphic novels or keeping your Arrow DVD's or Blu Rays safe and sound, this Arrow bookend is looking pretty striking as the main hero himself takes aim with his signature compound-bow. Styled after the hero's appearance from the second season of the show on, Steven Amell's Oliver Queen sports his domino mask and hood combo, which should make fans of the comic happy as well.
The single bookend (though I guess you could just buy two of them if you want a set) stands in at about 9″ high, with a footprint of 6″ x 6″ and weighs a surprisingly hefty three pounds. You can expect to see the protector of Starling (or 'Star' if you prefer) City arrive in stores in the fourth quarter of this year, perfect for that Arrow fan on your Holiday list.