Oddworld fans, things are about to get New and Tasty on the PC.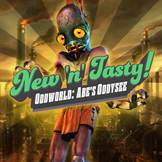 The long awaited remake of the puzzle/platformer classic Oddworld is almost here for PC gamers with Oddworld: New and Tasty. It's right around the corner actually, and as such you can pre-purchase the game right this second so you can get to playing as soon as oddly possible, and nab a few little goodies for your pre-launch efforts.
Those who pre-order now, will get the "expansive Alf's Escape DLC and the Scrub Abe costume DLC" at no additional cost, as part of the bundle pack that's on offer via Steam. The pack will cost you $17.99 USD or £15 if you're in the UK, and includes the above downloadable content as well as a tidy 10% off discount from the usual asking price, which is pretty nice indeed for those who've been itching to replay one of the best side-scrollers from the PSOne era, all spiffed up for a new generation of fans.
You can grab a pre-order right here on Steam for PC, Mac, and Linux-based computers; the game arrives officially on February 25th, but in the meantime, you can get the full skinny on what's new and different this time around by clicking here.