Toy-maker NECA will have a fifth series of Jaegers on store shelves some time very soon, as battle-damaged Gipsy Danger and Romeo Blue have officially shipped out to retailers.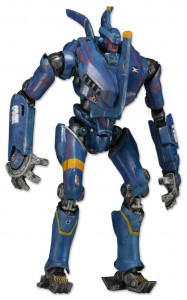 Gipsy Danger, which is the mech with the most and hero of Guillermo Del Toro's Pacific Rim, ships with some serious battle damage this time around, as it has its right arm sliced off and some massive gouges to the head. That's all thanks to the 'Knifehead' Kaiju that it battled at the beginning of the movie of course. And if you have no idea what I'm talking about, well, you've apparently missed the boat as Pacific Rim was a film that featured robots fighting monsters and opened in theaters in 2013.
The movie followed an elite US squad (one of many around the world) who piloted massive robots (called Jaegers) into battle against Kaiju, monsters 100s of feet tall that appeared form the ocean. The movie was met with mixed reaction, but the toy line from NECA is kind of the opposite. The line, now in its fifth series, has been a fan favorite for it's super-detailed monsters and robots alike, and is a hit for the company, who's made a name for itself with some of the coolest and most highly-detailed toys out there.
Wave 5 is no exception as both the battle-damaged Gipsy Danger and Romeo Blue alike are just this side of awesome. GD ships with a swappable right hand (since it doesn't have a left one), so you can switch between the normal hand, or the plasma gun that is sported in the film. As for Romeo, that 'bot only appeared in the movie in newsreel footage in the opening moments, and is one of the most highly-requested Jaegers according to the company.
Both figures stand in at 7″ tall, have multiple points of articulation, and should be on the shelves and in online retailers any day now.