A pair of books prepped for Free Comic Book Day 2015 will offer a quartet of stories, including the hyped Secret Wars and the Attack on Titan/Avengers crossover.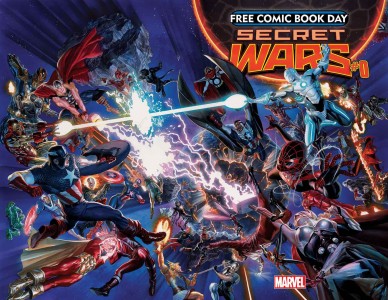 "Free Comic Book Day is a day to showcase the amazing world of comic books we all live and play in," says Marvel SVP Sales & Marketing David Gabriel. "What a spectacular opportunity to reach new fans as FCBD coincides with the release of Marvel's Avengers: Age of Ultron. There's no better time for fans to jump in to the Marvel comics universe with new titles featuring the Avengers, the Inhumans and Secret Wars. Support your local retailers and head to a comic shop that weekend for some stellar offerings from all-star creators. We can't wait for fans to get their hands on them."
Free Comic Book Day is always a great time and this year Marvel Comics has a pretty nice slate lined up. Not only do they have big name characters in them, but also sneak peeks at some of the biggest stories of the year that are on the way to the Marvel U.
The first issue will be Secret Wars #0, which will be a prolog from the team of Jonathan Hickman and Paul Renaud. And considering that Secret Wars #1 hits the stands the very next week, it's pretty well timed too. Backing up that tale, will be the 8 page Attack on Avengers story.
Coming from the team of Attack on Titan creator Hajime Isayama and artist Gerardo Sandoval, this is the first time that the Attack on Titan/Avengers mashup is seeing publication here in the US, which is pretty cool in and of itself. And that's all in the first issue that'll be free to tai home. As for the second issue, that will be titled All-New, All-Different Avengers FCBD, and feature the latest revision of the super-team.
Not only will this one have some of the biggest heroes in the Marvel U, but also will have something of a mystery creative team behind it. We know that Charles Soule will be on the writing team, but there's a second scribe on the book that has yet to be named and the artist lies in secrecy as well for the moment. Not a secret is the backup story though. as it will feature a special preview of Uncanny Inhumans.