A pretty packed week sees some big moments in both Marvel and DC, as well as the latest issue of IDW's X-Files book, and X-O Manowar taking on the Armorines over in Valiant.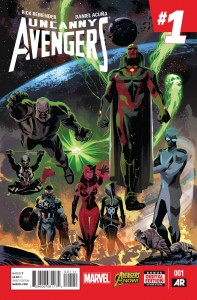 We'll start with Marvel this week as the New Year has brought on a few big milestones in the Marvel U. Thor #4 finally sees the moment that probably most fans have been waiting for as Thor Odinson takes on 'Thor'. The identity of the new Thor has yet to be revealed, but the old one is not all that happy to see someone else wielding Mjolnir. And even without his hammer, he's still a Norse god, so this should be a good one.
A big new book for Marvel is also the re-launch of Uncanny Avengers, which has a brand new #1 issue this week. I'm in the camp that gets annoyed by all the first issues and 'volumes' that happen more often than not these days, but there's no denying that this should be a pretty important title, especially as we head further into 2015. Vision, FalCap, Scarlet Witch, Quicksilver, Rogue, and others have to pick up the pieces after Axis, an event that didn't do wonders for the Avengers roster.
Meanwhile, in DC one of the biggest Batman storyline in years (and that's really saying something) continues to roll on with part 4 of Endgame in Batman #38. Aside from the main tale (whose events are, of course, completely secret till launch), there's also a back-up story in this one that relates the experiences of five Arkham escapees in their dealings with the main clown himself – The Joker. I probably don't even have to recommend this one, but if you've been following Snyder and Capullo's series, then this is a can't miss.
X-O Manowar #32 also hits stands this week with its interlocking pair of variant covers. The book further tells the tale of the Armorines and their effort to take down the Valiant U's most powerful hero. And while they're about to find out that that' not all that easy of a task, the man behind the curtain who gives them their orders is about to have a bigger impact on the Valiant Universe than anyone would have guessed.
Also a can't miss, if you're an X-Files devotee, is IDW's continuation of the series with Season 10 #20. This issue is the second part of the G-23 storyline and follows Mulder's early days at the FBI academy as well as his father's interactions with his 'friend', the Cigarette Smoking Man.
There's a different kind of alien saga taking place in Dark Horse's new universe of terror Fire and Stone as the first big arc comes to a close in Predator: Fire and Stone #4 (of 4). The Predator has finally found his quarry, an Engineer, but can he match up with the alien planet-seeder, or will the ultimate big-game hunter have met his match? This issue closes out a story that started last Fall, so if you've been following along, don't miss out on this one.
Those are my best bets for the week, but read on for the full list of what I'll be picking up this week off the racks. And of course, if you'd like to see the full list of what's shipping into your local comics shop and to digital download platforms, hit this link to head over to Previews full catalog.
Marvel Comics
Thor #4 – see above
Uncanny Avengers #1 – see above
New Avengers #29 – The countdown to Secret Wars begins…
Spider-Man 2099 #8 – More Spider-Verse team-up action as Miguel and Lady Spider rejoin the Spidey army to take on the Inheritors.
DC Comics
Batman #38 – see above
Aquaman #38 – The fallout from Grodd continues.
Flash #38 – With the Flash still stuck out of time, his killer replacement runs rampant.
Red Lanterns #38 – Guy's got a death wish, and that doesn't really mesh with being a hero.
He-Man: The Eternity War #2 – A no-brainer if you're a MOTU fan, He-Man leads the Snake Men into battle against the Horde.
Sinestro #9 – Sinestro vs Mongul.
Dark Horse Comics
Predator: Fire and Stone #4 – see above
Halo: Escalation #14 – Halsey has allied with Covenant commander Jul 'Mdama, which isn't going to be great for the UNSC Infinity and her crew.
IDW Publishing
The X-Files Season 10 #20 – see above
Ghostbusters/TMNT #4 – The pair of teams take on the supernatural menace that'e been plaguing them as the Turtles chance to get home almost run out.
G.I. Joe: A Real American Hero #210 – Snake Eyes and ninja action galore as Copperhead, Scrap Iron, and Firefly get ready for their plan to kick off.
Valiant Comics
X-O Manowar #32 – see above