Hot on the heels of the good news out of Nintendo earlier today, publisher Koei Tecmo has announced that the Zelda-themed hack'n slash Hyrule Warriors has shipped a million copies.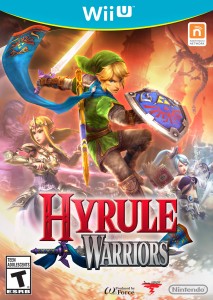 Hyrule Warriors has been a little bit of a divisive game since it's launch on the Wii U late last year. Essentially a Dynasty Warriors game with a Legend of Zelda coat of paint, the game was either derided (thanks to the similarities between it and the also divisive Dynasty Warriors series), or applauded for the fund and simple gameplay and massive amounts of Zelda fan service that it was packed with.
Personally, I liked it even though I'm not a DW fan at all (really, AT ALL) and slapped it with a solid 8.0 in my review. Apparently there were plenty of other gamers out there who felt the same as 1 million copies (just say it in the Dr Evil voice- it's so fun) have shipped to retail stores everywhere. Now, important to remember here, this isn't units sold, it's units shipped that we're talking about. Though while the former number is sure to be smaller than a million, it's still impressive that the number shipped out, and does mean that quite a few of those copies sold to Wii U owners globally.
There may be more sales to come too, as the Majora's Mask DLC pack is on the way to the game, and is sure to stoke some interest in those eagerly awaiting the 3DS version of that classic title. The pack is expected to arrive on February 5th.
Source: MCV