Pewfell in Drain of Chaos is the long-time comic created by illustrator Chuck Whelon, and was a project he started back in the 1990's. While the comic itself has been completed, the project was recently revived to launch as a Kickstarter campaign, so it could be turned into a book and reach a new generation of fans.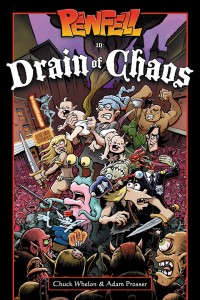 As of January 9, 2015 the campaign was a success.
For 20 years Chuck Whelon has lived in San Francisco, is married and has a 12- year- old son. He has worked for a long time in graphic design, advertising, and for eight years he has been working full time as an illustrator. Whelon's previous projects as an illustrator included: Children's books, (think of where's Waldo?) and board games for the company Minion Games.
In his spare time he likes to play Dungeons and Dragons once every other week with a group, however he explained that he made that conscious decision to focus his energy in creating comics so that is also considered  a hobby of his.
Pewfell in Drain of Chaos started out as something for Whelon to draw as he loved creating monsters, goofy characters, and fantasy worlds.
"When I first started working on Pewfell in Drain of Chaos I didn't really have a clear idea when I first started it about what I was doing, and it evolved and it became a little bit more and turned into a semi- autobiographical epic  fantasy sitcom so it was a good excuse to draw that.  I also like the cartoony animated, humorous style as that is more of my background," said Whelon.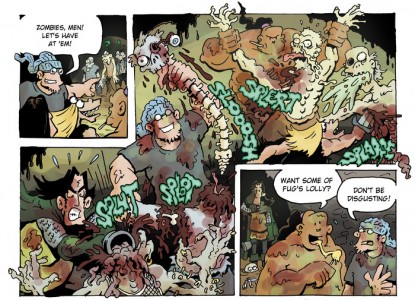 The story is about Pewfell who deals with the additional responsibilities of life and while he has the training as a wizard, he is not a very good one and he just  gets through life just like the rest of us.
The inspiration for creating Pewfell in Drain of Chaos had started when Whelon originally did it as a black and white zine, and had thought about putting it on the internet when he could.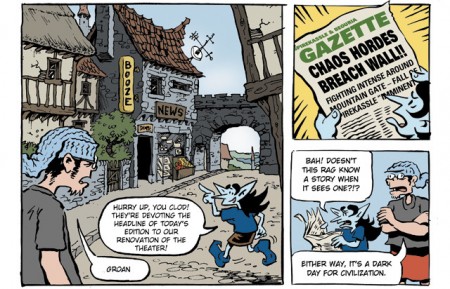 "I didn't really start doing it as a daily strip until around about the year 2000 and then I printed it daily.  Eventually it got picked up on a website called moderntales.com, and I started getting a lot more serious with it. Pewfell in Drain of Chaos is the first book where I really sat down, and thought about what sort of story I want to tell and do I want the strip to progress. So I kind of had the idea to do it as a daily strip, as I had been doing it as a full page format but I wanted it to go into a newspaper format."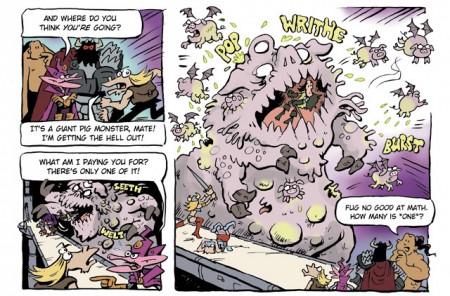 Whelon said the creation of Pewfell in Drain of Chaos took approximately 10 years because he worked on it daily, then after the comic was completed he started getting busy with other commitments. Once Whelon decided to turn the comic into a book, he spent a few more years colouring and redrawing most of the illustrations.

To tell a good story you need relatable characters and for Whelon he said that if there is one character he relates to the most, it's Pewfell in terms of physical characteristics, but when you`re writing the story all the characters become aspects of your own personality.
Whelon shared the most rewarding part of this project.
"I just enjoyed the whole process of doing it (thinking of the ideas, thinking of the jokes) And it`s a big part of my life because I was doing it daily for a long time," he said.
Whelon then went onto share the emotions he experiences when he sits down to work on a comic. "It depends.  When you`re drawing and writing you are thinking about the emotions that your characters are experiencing. Primarily it`s been a joyful experience."
Going forward Whelon hopes that the audience will laugh when they read the comic, and that the story gives them a new perspective on life.
If you wish to read the comic online you can go to: Pewfell.com