Mezco'z One:12 Collective Judge Dredd figure is now available for pre-order.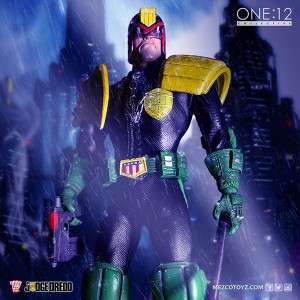 Some of the most exciting figures hitting this year, the One:12 Collective series is super-posable, hyper-detailed awesomeness. Starting off with Batman as he appeared in The Dark Knight Returns comic mini-series, Judge Dredd is set to be the second figure in the line.
Much like the Batman figure before him, the sculpt on Dredd is comic accurate and looks pretty great. He also features a ton and a half of articulation and a costume that's crafted with an eye towards detail and functionality- working zipper and all. Oh, and accessories? Yeah, he'll come packing plenty of those.
Here's what's in the box:
Iconic helmet with translucent visor
Real leather-like fabric uniform
Equipment belt with working compartments for grenades and ammo magazine
Boots with holster and knife sheath
Boot knife
Handcuffs
Lawgiver pistol
Lawgiver ammo magazine
Daystick
Two grenades
One  set of fists
One  gun/holding hand
One open hand
One pointing hand
One choking hand
Display base and posing post
Points for the 'choking hand'. If you want to make sure you get one of these bad boys before they hit the streets, you can pre-order here on Mezco's site right now.