If you've got a movie or comic fan on your list, and you've yet to finish up shopping this Christmas Eve, then some of these goodies might be just what the doctor ordered.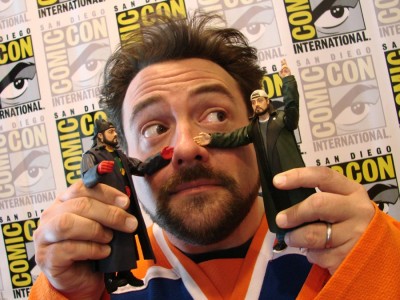 It's a pretty varied week for DST and their in-store offerings. For starters, the Jay & Silent Bob 20th Anniversary Select Action Figures are hitting this week, so for fans of Kevin Smith's comedic Clerks universe, those are ones to grab. Also out today is a statue of classic femme fatale Lady Death, and a tray that's moulded into the Avengers logo. Those are particularly awesome of making chocolates and lil'cakes as much as ice.
Here's the full listing of what's on the shelves.
Jay & Silent Bob 20th Anniversary Select Action Figures – A Diamond Select Toys Release! It's been 20 years since we met Jay & Silent Bob in Clerks, and DST is celebrating the less-than-dynamic duo's anniversary with their most realistic action figures ever! Based on their appearances in Jay & Silent Bob Strikes Back, these 7-inch scale figures feature multiple points of articulation and the likenesses of Kevin Smith and Jason Mewes, and include interchangeable heads and hands, as well as connecting display bases depicting the interior and exterior of RST Video. Packaged in Select-style display packaging, with spine artwork. Sculpted by Patrick Piggott!

Jay Figure (Item #APR141976, SRP: $24.99) http://diamondselecttoys.com/jay-silent-bob-20th-anniversary-select-jay-action-figure-2

Silent Bob Figure (Item #APR141977, SRP: $24.99) http://diamondselecttoys.com/jay-silent-bob-20th-anniversary-select-bob-action-figure

Femme Fatales Lady Death Reckoning PVC Statue – A Diamond Select Toys Release! Lady Death can never die! The perpetually youthful goddess of destruction and decay returns to the Femme Fatales statue line with an all-new look! Based on the cover to Lady Death: The Reckoning #1 (Dark Queen Edition) by Richard Ortiz, this 9-inch PVC statue depicts a new twist on her classic costume, and has her armed with both a sword and a wicked scythe. Standing on a sculpted base, Lady Death will look amazing on her own, or even next to your other Femme Fatale statues! Sculpted by Sam Greenwell! (Item #JUL142038, SRP: $45.00) http://www.diamondselecttoys.com/femme-fatales-lady-death-reckoning-pvc-statue
Marvel Avengers Logo Silicone Tray – A Diamond Select Release! Avengers assemble… for refreshments! With this 4″ by 6″ silicone tray, you can cast up ice, gelatin and chocolate in the shape of the famous Avengers logo. Your delicious concoctions may not be able to save snack time from the forces of evil, but they'll sure as heck avenge it! Packaged in a full-color window box. (Item #NOV142180, SRP: $14.99) http://www.diamondselecttoys.com/avengers-logo-silicone-tray