The designs used in characters and now traps for Activision and Toys for Bob's Skylanders series have been more or less a static thing, with no changes since the first game hit shelves. Well, not anymore.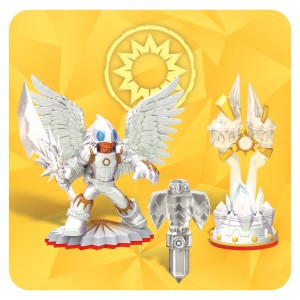 Adding a pair of new elements for you to hunt down and collect, a duo of new expansion packs have just hit stores, just in time for the Holidays. The Light and Dark elements are compatible with the newest title in the franchise, Trap Team, and include one Trap Master figure, a new trap that reflects the Light or Dark element, and a set piece that opes up a new level in the game.
The new Trap Masters also have a little bit of the light and dark magic and are Night Lite and Night Mare respectively, and each set will also pit gamers against light and dark enemies, fitting with the theme. The sets will add in even more back-story for the Skylanders universe, a key element in and of itself according to Activision's John Coyne.
"It's amazing to see how deeply engrossed and fascinated our fans have been with the lore of the Skylanders franchise," said John Coyne, vice president of Consumer Marketing at Activision Publishing, Inc. "By unveiling new Light and Dark elements and heroes to the Skylanders universe, our fans around the world will have new ways of exploring all the magic, excitement and fun of Skylands."
The sets should be available right now at your local Toys R Us store and will cost you $29.99 USD.