The latest New Toy Day from Diamond Select Toys has Pathfinder and TMNT Minimates, along with a few pretty neat odds and ends.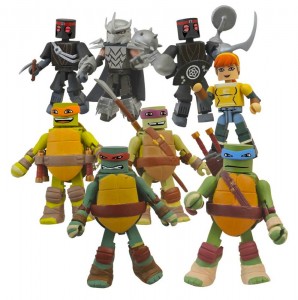 First up in this week's cool stuff are those TMNT Minimates. I love the look of these little guys. The sculpting to capture the Turtles and their friends and foes, as they all appear in the new Nickelodeon animated series, in Minimate form is top-notch here. Also kind of new for Minimates is that these guys will be blind-bagged, so you won't know which characters you're getting till you rip the packaging open. Quite a few other figure lines have adopted this method for sales and it's pretty fun. Also, I imagine that in the case of the Turtles, you'll be able to tell pretty easily whether you've got one of the team or not just by feeling the pouch that they'll be sold in. So limited aggravation in getting doubles there.
Also on the Minimate end of things, Pathfinder is finally seeing release this week. It seems like these have been on the offing forever, but the set of fantasy characters from the popular RPG are hitting store shelves just in time for the Holidays. And who doesn't want a nasty little goblin under the tree? Then there's the Bluntman and Chronic Retro Cloth Action Figures, which fans are sure to want to have a peek at, along with the Batman '66 bottle opener, that Zippo lighter from Back to the Future (which is pretty awesome) and the Aliens bust/bank, which is a first for DST in that series.
Overall, lots to like and plenty to pick up for some gift giving fun… or for yourself. Whichever.
Aliens Alien Warrior Vinyl Bust Bank  – A Diamond Select Toys release! What's inside an alien besides acid blood, a metal tongue and spite? Your money! This 8″ vinyl bank of a warrior-class xenomorph from the sci-fi classic Aliens may have a coin slot on the back and an access door on the bottom, but it looks just like a high-quality collectible bust! A detailed sculpt and paint job make this a must-have item for any Aliens collection. (Item #JUN142092, SRP: $22.99) http://diamondselecttoys.com/aliens-alien-warrior-vinyl-bust-bank
Back to the Future 2 Biff Tannen's Pleasure Paradise Zippo Lighter  – A Diamond Select Toys Release! The Zippo lighter is one of the most distinctive lighters ever made, and we can imagine this all-new Zippo design being sold in Biff Tannen's hotel and casino, located in the heart of Hill Valley. Flip open this metal Zippo lighter sporting the Pleasure Paradise logo, and it's sure to warm the dampest spirits. Comes packaged in a full-color collector case. (Item #DEC138390, SRP $29.99) http://www.diamondselecttoys.com/back-to-the-future-2-biff-tannens-pleasure-paradise-zippo-lighter
Batman Classic TV Series Batarang Metal Bottle Opener – A Diamond Select Toys Release! An essential item for any utility belt! In the Batman Classic TV Series, the Batarang served a multitude of purposes, from grappling hook to boomerang to cutting tool, and now we've given it another job! This 4-inch solid metal replica of the classic Batarang is actually a bottle opener, using the points and talons of the most famous Bat-tool to pry the cap off of any bottle. With two magnets on the back, it will hang on your Bat-fridge until it's needed! Comes packaged in a full-color slipcase. (Item #JUL142039, SRP: $18.00)
Bluntman and Chronic Retro Cloth Action Figure Asst. – A Diamond Select Toys Release! Look, up in the sky, it's Bluntman and Chronic! The comic book heroes created by director Kevin Smith and featured in "Jay & SIlent Bob Strike Back" are now a pair of Retro-style 8″ action figures! Each figure includes a real fabric costume and a removable weapon, and will fit into your 8″ retro collection like it was made in the 1970s! Designed and sculpted by EMCE Toys! (Item #MAR141946, SRP: $19.99/ea.) http://diamondselecttoys.com/bluntman-chronic-retro-cloth-action-figures
Pathfinder Minimates Series 1 Box Set –A Diamond Select Toys Release! From across the world of Golarion come representatives of four of the most well-known races of the Pathfinder RPG! This four-pack of 2-inch Minimates mini-figures includes the heroic Valeros, Human Fighter; the heavily armed Harsk, Dwarf Ranger; the mysterious Merisiel, Elf Rogue; and a vicious Goblin Warrior. Each Minimate features interchangeable parts and accessories. Packaged on a blister card. Designed by Art Asylum! (Item #JUN142089, SRP: $19.99) http://www.diamondselecttoys.com/pathfinder-minimates-series-1-box-set
Teenage Mutant Ninja Turtles Minimates Blind Bag Series 1 Asst.  – A Diamond Select Toys Release! The heroes on the half-shell are joining the Minimates family, and we're offering them in a whole new way! Each countertop display contains 18 blind-bagged pouches, and each pouch contains one 2-inch Minimates mini-figure, featuring interchangeable parts and accessories. Each display holds nine different Minimates, including Leonardo, Michelangelo, Donatello, Raphael, April O'Neil, Shredder, Foot Soldier, Footbot and a rare, one-per-case translucent Raphael! There's a full set in every case! Designed by Art Asylum! (Item #JUL142033, SRP: $5.99/ea.) http://diamondselecttoys.com/teenage-mutant-ninja-turtles-minimates-blind-bag-series-1-asst