It's going to be a very happy Black Friday indeed if you're in the market for digital versions of some of the best comics on the racks.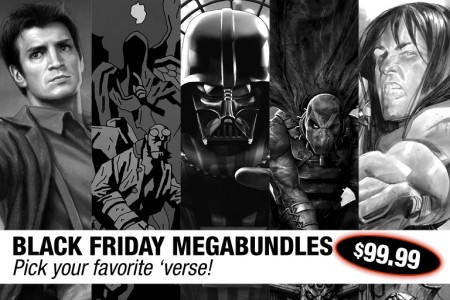 As usual, Dark Horse Comics has a ripper of a Black Friday sale ready for this coming Friday, the day after Thanksgiving in the US. This is nothing new for the publisher of course, as they usually have some terrific sales lined up for the shopping holiday. This year is all that much more special though as the Star Wars bundle that's on offer marks one of the last times there'll be a chance to grab a collection of them from Dark Horse, since the series returns to Marvel Comics in 2015.
That's not to say that the other bundles that Dark Horse has aren't tops as well though. Pretty much all of them represent some of the most popular franchises not he planet today, and if you're missing issues, or have yet to get into them, there's no better place to start. Here's what's on tap:
Personally, I'm looking at that Mignolaverse bundle, and maybe that REHverse bundle as well- never could pass up a good Conan story. Although, that Project Black Sky bundle would catch me up nicely on what Dark Horse has been putting together in their new superhero universe… and that Joss Whedon stuff… I might be in trouble. Anyway, the bundles are all $99.00 USD each, which is a monster 60% off the usual prices for all this stuff.
You'll be bale to nab them all (or just one or two if you like) starting this coming Friday (November 28th) through Sunday. Don't have the Dark Horse Comics App? You can catch it on Google Play and the iOS App Store, or just through your plain old web browser.