Pinball and RPG? Will it make the cut? Read on to find out!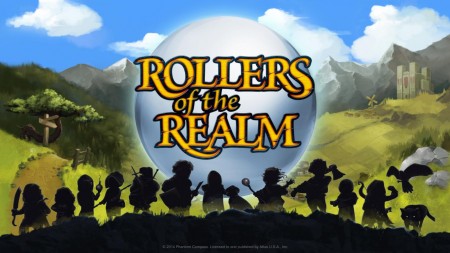 Rollers of the Realm is a Pinball game with a bizarre twist; it has an RPG melded into it. The game promises a casual appeal while hooking players in with its RPG-inspired storyline and character development. The concept of the game is honestly strange, but it does have its moments with its varied characters and its intuitive gameplay because seriously, it's still a pinball game at heart.
At first glance, the visuals seem bland and colorless, but Rollers of the Realm makes that blandness its own by mixing in a medieval sort of gloom over it, and I love that feeling of despair that the game permeates. It only serves to enhance the experience of playing as a downtrodden Rogue
troubled by her past and haunted by her mysterious destiny. It does have a grandeur to it that can only be felt you are playing through her story. The people are designed to look normal and ordinary, completely the opposite of how other RPGs design their characters to be impossibly good looking despite their state in life. The addition of a realistic take on their designs only servers to add depth to their characters.
The maps, or in this case 'tables', are again designed to be completely ordinary in terms of quality. But once again, that only adds to its appeal. The places look gloomy and sometimes downright sketchy and disgusting but hey, Rollers of the Realm makes it work. Worth noting is that each ball that is meant to represent the player's party members are all different in size, scale, and utility and a good example is the melee focused Knight Character.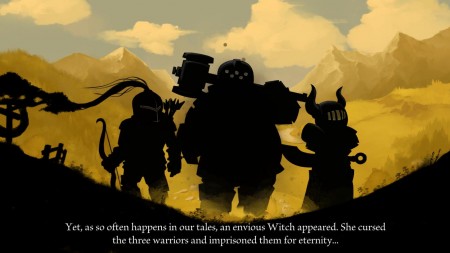 This ball is bigger and shows sign of damage as he symbolizes the veteran trope, while the Healer is smaller, faster and is geared towards collecting mana to help heal the characters and flippers as they take damage from hostile attacks. The items aren't all that well designed though. Items don't show up in battles and all they add are stats and bonuses to the character that they are equipped to, other than that they just serve as visual representations of the character's stats. All in all the visuals of the game could sure use some improvement, but their blandness and their sense of being ordinary somehow does add to the appeal of the game.
The music seemed pretty non-existent for me. It's not that it's horrible or anything, but the music simply seems like it's not even there and that it's not doing anything for me. It doesn't have the flair necessary for 'shaking things up' so to say, nor does it have the appeal to make up for its flaws. Simply put, the music has a lot to answer for and it could be a lot better if they decided to go with more encouraging songs rather than the bland approach they took for the score of this game. What got me though, were the 'fun sounds' you can hear in pinball games when the ball just starts hitting everything, and if nothing else, that sounded pretty good.
I have almost nothing bad to say about the voice acting, as it is top-notch. It kind of rattled me how everyone had a British accent when the scenery and locales reminded me more of medieval France. Granted, the voices were all well executed and they only added to the various characters' appeal, but a little variety here and there wouldn't hurt.
Rollers of the Realm's gameplay is straightforward in playing the whole 'this is a pinball game, but with RPG in it.' And it does it so well that the bizarre combination works. There are various obstacles to conquer in the game using precision and luck, but none too hard to break the game and none of them are too easy to make it boring either. I believe that they achieved the perfect balance of making the game both fun and casual, without losing any of the appeal that could help attract solid RPG gamers such as myself. Its fun, challenging, and the RPG elements add even more hours into a game that's already pretty lengthy.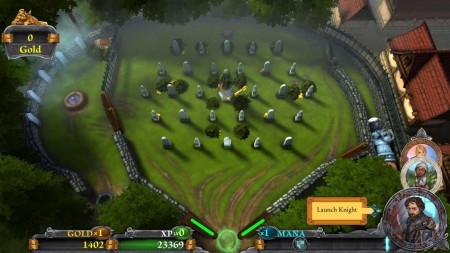 The story plays the tragedy theme fairly well. Our Young Rogue who is the main protagonist, dictates her life prior to her now-criminal ways. We soon learn that not everything is the way it seems and that some external forces of darkness took everything she held dear. That eventually led to our Young Rogue wanting to exact some justice. The story is paced well enough to not be boring, while maintaining an air of mystery that should keep players intrigued and wanting to play more. Though I'll add that some of the finer aspects of the game seem done to death. A little improvement in writing and storytelling would have fixed that. I mean most of these tropes have been so overused that even Square Enix doesn't want to make a trilogy (a'la Lightning) off of that. (Shots fired. Believe me, I am in love with Lightning but more on that some other time)
Knocking your 'characters' around the table is joyously easy thanks to the controls being intuitive and are like any Pinball game on the market right now.  There are two keyboard keys that are used to control the various flippers in the game, and the spacebar is used to launch the ball. The key is to pay attention to the early game tutorial. Do that and the controls are easy enough to learn, all it takes are a few practice rounds and you're set to go.
The RPG element in the game is pretty straightforward: It's a pinball game with a story that will progress as the player fulfills various conditions in the game and off-game there's a store system that can be used to upgrade character stats by purchasing various equipment. Money is earned by collecting gold as the player navigates the pinball tables and most of the items can be bought with minimal farming.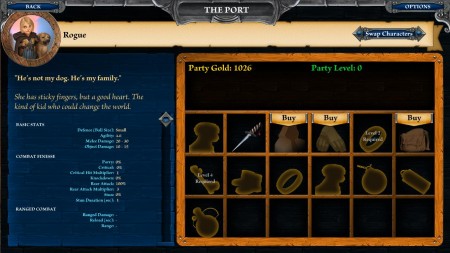 Final Thoughts
Rollers of the Realm is a simple and easy to learn pinball game that should satisfy the RPG gamer in you once you get past its blandness and simplicity. It takes some time to learn to love, but it's a worthwhile path worth walking to the end. This game is recommended for casual and RPG gamers.