Confusion abounds.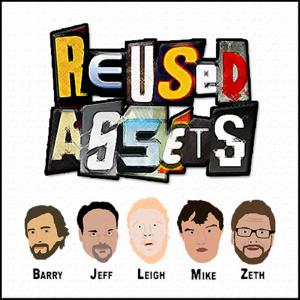 On this shorter episode of Reused Assets, we discuss some of the newer games that have been occupying our time, such as Civilization: Beyond Earth, Fantasia: Music Evolved, Destiny, The Evil Within and Sunset Overdrive.  Also, Barry regales us with stories of his recent visit to Preston.
Due to technical issues, this episode was taken from the Skype recorder back up, so the sound quality is inconsistent.
Hosted by Barry Guihen, Mike Jones, Zeth Ward and Leigh Groocock.
Intro music is 'Intro' and outro music is 'Yeah Yeah Beats', created by She.  Find these tracks and more at www.shemusic.org
You can subscribe on iTunes by clicking here.
Grab the RSS feed here and add it to your favourite podcatcher!
Thank you to Brutal Gamer for allowing us to post this here.  Reused Assets is a syndicated podcast and is not an official Brutal Gamer show.