Brand new in stores this week from DST is another series of The Walking Dead Minimates, and they're bringing Batman 66's Joker, Godzilla and more with them.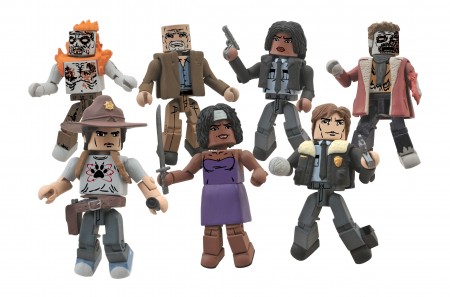 Actually, it's kind of a zombie buffet at specialty and comic books stores this week. Not only does DST have yet another round of awesome-looking The Walking Dead Minimates on hand, but they've also got a round of Plants vs Zombies 'mates headed to stores. So it's kind of like one set for the kids and one for  the… bigger kids.
Also, if you're a Minimate fan, you can't miss out on the series of Godzilla Minimates that just landed. The series includes the big reptile himself, Godzilla, along with Mothra, Gigan and Titanosaurus and is supremely awesome.
Not into any of that stuff? Well, there's a ton more hitting this week including that Joker '66 that I mentioned above as well as Pulp Fiction Minimates and a super-cool statue of Spidey from The Amazing Spider-Man